What is Advertising Translation?
Advertising translation is the process of converting an advertisement designed for one specific audience into a format that resonates with an audience that speaks another language. Translating ads includes changing content contextually and culturally to engage your targeted audience successfully.
Advertising translation can be considered a critical part of a business's global expansion. This article discusses the benefits of translating advertising with foreign markets in mind, what kinds of ads can be translated effectively, the process of translating ads, and some pitfalls to avoid.
Why is Translation Important in Advertising?
Advertising translation recognizes an audience outside of your native language. Translation and localization of advertising present vast opportunities for the fast-growing global marketplace. It allows businesses to reach more customers, build their brand presence, and increase sales.
When you localize advertising, you are sending a clear message about how marketing efforts focus on specific audiences. According to research, almost 63% of all websites are in English; however, those only reach about 25% of all internet users. Tied to those numbers is advertising. According to CSA translation research, Fortune 500 companies reported being 2.04 times more likely to improve profits and 1.27 times more likely to generate more earnings per share when they invested in translation services. And according to Adotas, 86% of localized mobile advertisements performed better than their English counterparts, showing a 22% and 42% increase in conversion and click-through rates, respectively.
4 Key Benefits of Advertising Translation
1. Increases Reach and Market Size
When you translate ads and place them in the global marketplace, your business opens to new audiences. Translating advertising messaging and meeting people on their cultural level can expand your reach and market size. Marketing and translation attract more people to your company. If marketing translation is accurate and culturally appropriate, you can relay messages to potential clients worldwide.
2. Develops Brand Credibility and Trust
Once you recognize your target market, it is vital to establish business relevance. Localized marketing is crucial to avoid mistargeting and keep your reputation intact. Unfortunately, many brands have experienced a steep learning curve when global marketing strategies fail to resonate.
To create a successful global business, your brand needs to be credible in your customers' eyes. The best way to build credibility is to give customers the best experience possible when interacting with your brand. Providing content and marketing materials, such as advertisements, in your customer's native language will ensure they have a satisfying experience.
3. Improved CTR and CVR
What about the traditional KPIs associated with advertising such as CTR and CVR? Studies have shown that compared to English-only ads in global markets, fully localized multilingual ads result in higher click-through rates, lower bounce rates, and more transactions.
For example, mobile user acquisition firm Appia studied the benefits of localizing mobile ads to serve different regions (specifically, Germany, Spain, and France). The company ran controlled tests of mobile ads both localized and in English across those three markets. The ads were distributed across Appia's network simultaneously, and traffic was served evenly based on real-time visits to a mobile app or website.
The results were telling: 86% of the localized campaigns outperformed the English ones in both click-through and conversion rates. The average CTR for the English campaign was 2.35%, with a CVR of 7.47%. In contrast, local ads had a CTR of 3.34%, with a CVR of 9.08%. Localized copy and creative resonate with customers and prospects and have a clear impact on the bottom line.
4. Reduced Ad Costs
If you ever research advertising rates in other countries, you will find that they vary wildly, with most countries offering cheaper average costs-per-click (CPCs) than the U.S. For example, Australia has an average CPC that is 5 percent less than the US average, Brazil has an average CPC that is 11 percent less than the US average, and Turkey has an average CPC that is 32 percent less than the US average. When it is less expensive (CPC is lower) to get users to your website and conversion rates are the same, your return on ad spend (ROAS) climbs. This will not always be the case as different audiences will convert at different rates, however, reducing CPC is always beneficial!
What to Consider When Translating Advertisements
Translating advertisements is a complex process, but with research and knowledge of your target audience, you can set business success in motion.
Cultural Context and Local Preferences
Advertisements have a clear goal to promote a product or service by appealing to the audience, so the preferences of the target audience must be considered. There are various nuances for advertising, including people's habits and customs, religion and beliefs, morals and ethics, laws in the target region, and linguistic or stylistic requirements.
The phrase "lost in translation" accurately describes what can happen if you do not keep the cultural context in mind. Simply translating content word for word can leave your target audience confused or even offended! Cultural differences and local preferences can alter the well-intended meaning behind the advertisement. Look at various cultural elements when translating marketing materials such as advertising. Think about local buying preferences and local buyer personas for businesses like yours, and recognize that because a certain angle for an ad works in the U.S. does not mean it will work in other countries.
Types of Advertisements
We've been discussing advertising in general, but there are different ads to present your business. Think about what type of advertisement you are trying to translate before you start the translation and localization process. A few advertising options include:
Search ads – online text advertisements for web pages that show results from search engine queries.
Display ads – appear on third-party websites and use video, images, or text elements to market products or services.
Social media ads – a form of digital advertising that serves paid ads to your target audience using social media platforms.
Programmatic media – utilizes data insights and algorithms to serve ads to the right user at the right time and price.
Video ads – displayed ads either inside online video content or as standalone ads.
Each type of ad has different requirements for translation and localization. For example, for some ads, photos, video, and audio may be considered for translation, whereas others may only require text, such as search or display ads.
Character Counts
Social media platforms and search engines feature different requirements for advertising, such as text character counts. As you localize content, your content's length and character count will likely change. Consider the character counts for each ad type so they can be used on whatever platform you want to target ads.
Data Use and Local Regulations
You must consider local regulations when considering an ad campaign in a foreign market. Advertising laws can be highly complex and vary from one country to the next. For example, in Muslim countries, there are prohibitions against ads for alcohol or ads that may offend traditional notions of decency. In Sweden and Norway, all advertising aimed at children is prohibited, and in France, a child may not appear as the spokesperson in a commercial.
In addition, certain countries may restrict how data is collected and leveraged. They require companies to store a copy of the data locally, process data locally, and mandate individual or government consent for data transfers. Data localization comes in many forms: while some countries enact blanket bans on data transfers, many are sector-specific, covering health, accounting, financial, telecommunications, e-commerce, and online publishing data. This could prevent you from running certain ads that target demographics or retarget based on cookie history.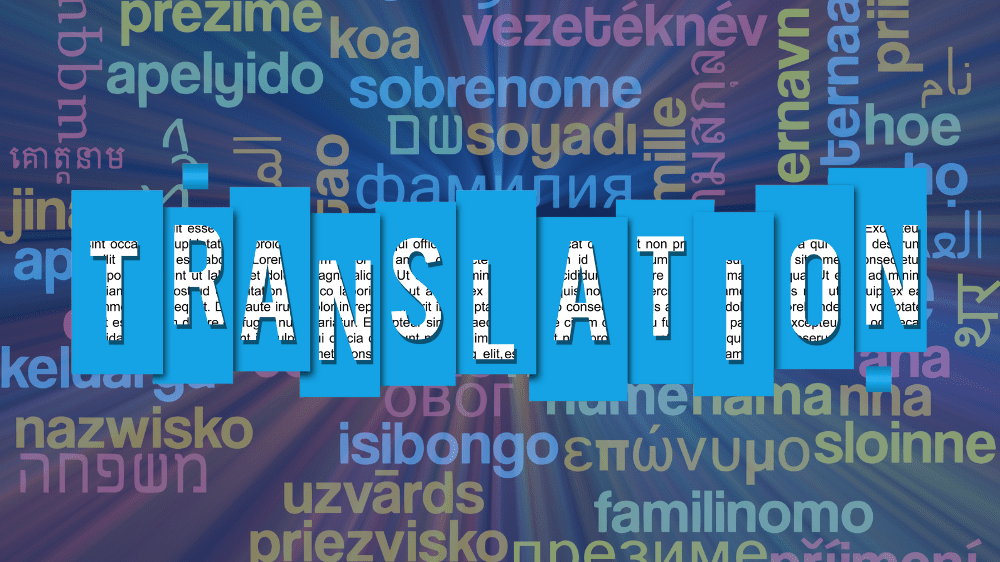 Advertising Translation: The Process
Step 1: Determine Locations and Languages
If you already have ads created in English, think critically about where and why you are choosing to expand. Thinking critically about the "why" behind your market expansion is always an intelligent first step when developing a localization strategy. Google Analytics presents location data where you can find percentages of new users driven by various countries and languages. If you find that new users and conversions are growing for a particular area or language, that could be a positive signal to move your advertising efforts there. Once you've determined the markets you would like to break into, conduct market research to dive deeper and craft buyer personas, evaluate competitors, and understand the angle you need to take to maximize the effectiveness of local ads.
Step 2: Localize Advertisements
Once you've established which markets and languages to target your advertisements, you can begin the translation and localization process. This is not the time to translate advertising content with a neural machine translation solution like Google Translate – it is the time to involve a comprehensive translation and localization company such as MotionPoint. Collaborating with a professional localization company ensures your content is evaluated from the inside out. Your advertising is culturally adapted to your target audience to make your company's content regionally and culturally appropriate. A professional translation company can seamlessly bridge your business to the target culture.
Step 3: Push Live with Language/Location Targeting
Once your ads are localized, it is time to push them live! Before launching live ads, ensure user tracking and testing parameters are in place so you can evaluate the effectiveness of the ads. Additionally, ensure that your ads reach the customers you want by using location and language targeting. You can target the geographic areas where your ads can appear with location settings.
Step 4: Review Data and Optimize
Once your ads are up and running, evaluate the effectiveness of your ads and make adjustments as needed. Metrics and monitoring are as important in multilingual marketing as in the home market. In new markets, especially in the early stages, it is good to get an idea of what measures work and where there is room for improvement. Changes may include copy edits, negative keyword additions, adjusted targeting, and a/b testing creative. In addition, this part of the process will help you become aware of the kinds of messages that will appeal to the new target group.
Translation Mistakes in Advertising to Avoid
Mistakes in advertising can be especially significant when they apply to translation. Advertising misses can be embarrassing and result in expensive fixes. Not being able to reach your consumers due to translation mistakes can hugely impact your brand financially and your reputation.
One example is when HSBC Bank made the mistake of translating their campaign slogan of "Assume Nothing" into different languages. As a result, this slogan, which ran for more than five years, was mistranslated to "Do Nothing" in several countries. This translation error cost the bank around $10 million to change its tagline to "The World's Private Bank," which is a friendlier translation.
In addition, make sure product/brand names are translated when needed! American Motors made this mistake in the early 1970s by naming its midsize car "the Matador." Although the name was intended to conjure images of courage and strength, it may have been a little too aggressive for Spanish-speaking consumers: In Spanish, "matador" means "killer."
Translate Your Ads to Reach New Markets
Translating advertising is the art of finding the right words to address potential buyers appropriately. It requires adapting a message from one language to another while maintaining its original intent, style, tone, and context. It is also determining the appropriate phrases that make sense for your target audience and their culture while keeping your objectives and goals in mind.
The field of translation will always require a certain level of language proficiency, creativity, and cultural understanding; these factors become more significant with materials representing your brand to a new audience. MotionPoint provides localization solutions that support translation advertising worldwide. We have over 20 years of experience providing translation technologies and have powered over 1,500+ websites for hundreds of global brands in over 40 languages daily.
Last updated on September 16, 2022