Shopping holidays in the U.S. have become so popular, they sometimes steal the spotlight of the holiday season. No longer is Christmas the most wonderful time of the year. Instead, we see billions of dollars being spent, and in-store mayhem, on shopping days like Black Friday and Cyber Monday.
For marketers, it's no surprise these days generate an influx of consumer interest. The better the holiday promotion a retailer can run, the better its brand performs. It's a marketing formula that online advertisers have figured out in the U.S. However, the marketing world has only begun to consider measuring the direct impact U.S.-created holiday sales events have on foreign consumer markets.
MotionPoint operates and optimizes localized websites in many international markets, including Europe. The performance of these translated sites provides us with a unique perspective on European consumer trends.
Our Global Growth team recently took a close look at checkout rates observed on websites targeting European countries during the 2014 holiday season. Our goal: to identify multi-market promotion opportunities for 2015. To ensure MotionPoint extracted the most relevant data, we honed in on specific criteria:
Ecommerce websites that featured a checkout conversion
The websites had to be targeting a country (or countries) in Europe exclusively
The date range investigated: Nov. 1 to Dec. 31, 2014
The daily breakdown of total visits
The daily breakdown of total checkouts
The daily breakdown of revenue generated
The chart shown below features the daily trend lines of visits (blue), transactions / checkouts (red), and revenue (green):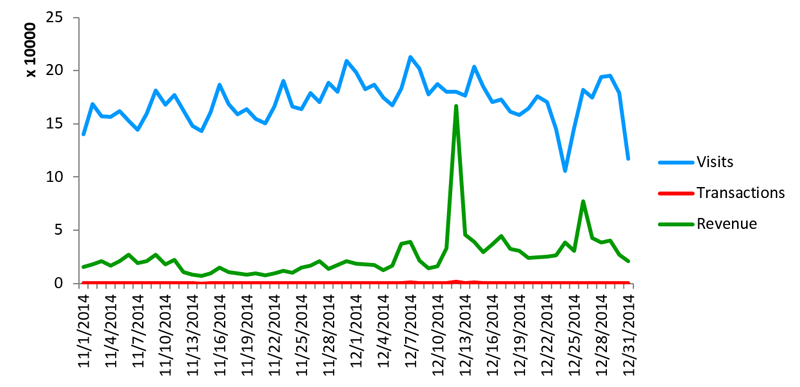 As you can see, the most noticeable revenue spike occurs on Dec. 12. Upon further investigation, this was one website running a strong in-market promotion on that day. Therefore, the immediate uplift was due to one website's fantastic day, and not a trend that spans many websites in the market.
Aside from revenue, both visits and transactions appear to fluctuate only slightly throughout the season. However, MotionPoint wanted to look further into the details surrounding the checkout data collected.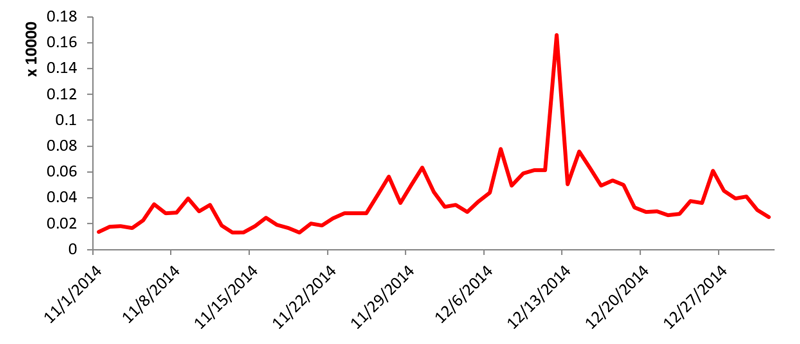 Once zoomed in, the same Dec. 12 spike is revealed, but some notable ebbs and flows become more visible. On Nov. 28 (Black Friday), there is a slight increase in transactions. Then, the same elevation is seen on Dec. 1 (Cyber Monday). These checkouts occur in, and are even distributed across, European markets such as Germany, Italy, France, Russia and more. It was clear there was some sort of additional shopping activity generated during these U.S. holidays, but MotionPoint wanted to isolate these days to be sure the data was telling the entire story.
The table shown below lay out the same metrics, but solely for Black Friday, Cyber Monday and Boxing Day. In order to truly know if there was an increase in activity on these days, MotionPoint also looked at the average daily activity over the timeframe monitored.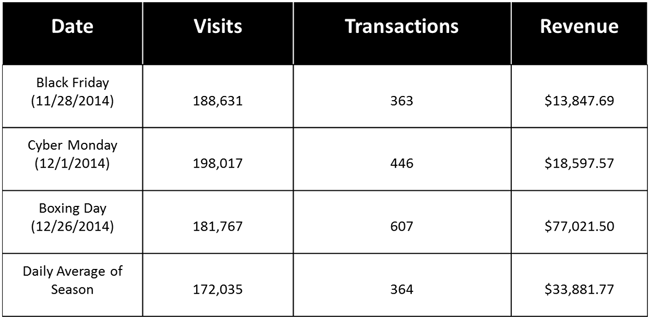 Unsurprisingly, Black Friday, which is more of an in-store shopping day in the U.S., underperformed the rest of the European holiday season by transactions and revenue. However, Cyber Monday, an online-exclusive sales event, outshined the typical day in terms of traffic and number of conversions.
Boxing Day, which is a holiday observed in these European markets, saw the total number of transactions and revenue spike significantly. Boxing Day yielded a 127% increase in revenue compared to the average day.
In conclusion, MotionPoint is advising all clients targeting European markets to allocate resources and invest in Boxing Day on Dec. 26. By simply running a promotion on this day, clients can expect to take part in the growing revenue expected to be generated from this holiday in 2015.
As for Black Friday and Cyber Monday, it's quickly becoming an obligatory strategy for websites targeting Europe. Localizing your U.S. holiday promotions for these markets is a beneficial first step toward capitalizing on the holiday season. MotionPoint always advises to split test banners and/or messaging used in order to best understand how each market engages with unique holiday content.
For 2015, MotionPoint hopes to further isolate each market in order to collect data specific to each European market. Capturing holiday shopping behavior specific to each market will allow MotionPoint to make stronger marketing recommendations that cater to user personas across multiple markets.
Last updated on November 19, 2015