Companies that use in-house staff to translate their websites are in for a rough time.
Website translation projects are overwhelming for most offsite vendors—to say nothing of your in-house staff. Your teams lack the expertise and technology needed to manage the necessary workflows.
In this free e-book, you'll learn why in-house website translation is harder than it sounds:
It creates time-wasting, repetitive workflows
It places overwhelming strain on staff's time and effort
It generates technical and operational complexity, and cost
Staff members struggle with linguistic and cultural fluency
You'll also discover what to look for in a digital-first agency that can eliminate the effort and expense of translating, deploying and operating multilingual websites.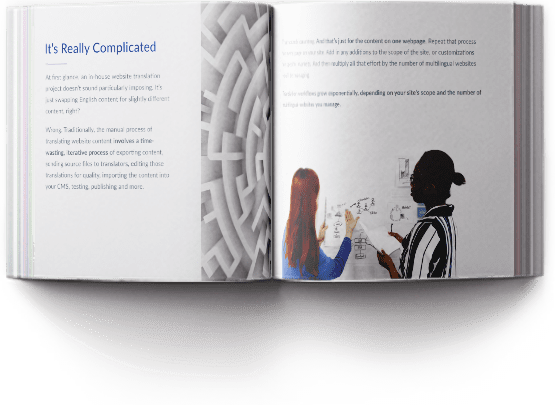 Download this e-book containing:
A rundown of required ongoing workflows beyond translation
Examples of processes that drain time and budget
The technical, linguistic, and cultural expertise your team would need
What to look for in digital-first solutions that eliminate the need for in-house teams
Remember: In-house translation is complicated and costly. Look for solutions from digital-first vendors that combine quality translations with leading technologies that minimize costs and speed to market.
Download the e-book