Most website translation approaches struggle to detect the interactive content in modern sites.
Elements such as dynamic content, web applications and personalized scripts often go undetected and untranslated. This creates a lousy localized UX that turns off international customers.
In contrast, a fully turn-key, proxy-based localization solution can relieve internal teams of time-consuming workflows, and can easily detect and translate dynamic, personalized content.
In this e-book, you'll learn more about:
Why yesterday's translation technologies aren't ideal for today's websites
The risks of localizing dynamic content with conventional translation vendors
The features and benefits of a turn-key proxy translation approach
You'll discover why major global brands rely on turn-key proxy solutions to localize their complex, dynamic websites.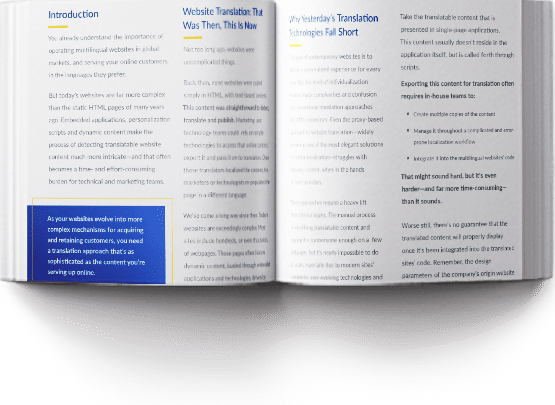 This e-book covers the advantages of the turn-key proxy approach, including:
The ability to identify translatable multimedia content
The capability to detect and translate content served in AJAX, single-page applications, iframes and third-party modules
All the technology, expertise and personnel needed to handle even the most advanced websites
Remember: Insist on working with a translation provider that can handle your immersive, dynamic website. Superior solutions make it practically effortless to deliver engaging online experiences and drive your global business.
Download the e-book