Localizing your website seems like a smart play when you're expanding into new markets.
However, many tech-savvy, mobile-first customers in emerging markets prefer virtual marketplaces hosted by third parties over company websites. To win these customers, you'll need to adapt.
In this e-book, you'll:
Understand virtual marketplaces and their role in international e-commerce
Discover the virtual marketplace landscape of several emerging markets
Explore the world of offsite social commerce
Prepare to seize new e-commerce opportunities
MotionPoint's industry-leading expertise can help you understand the changing nature of commerce in international markets.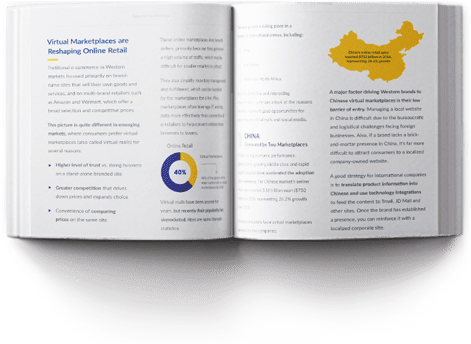 This e-book helps you:
Parse differences between the shopping cultures in various markets
Understand when and how to translate your online presence
Leverage third-party sales channels
Remember: Capitalizing on opportunities in global markets requires understanding local customers and how they research, evaluate and buy products. Be ready to reach them in the channels they use.
Download the e-book