Global Marketing Trends Are Shifting. Stay Ahead of the Curve Today!
A successful global marketing strategy begins with understanding your target audience and evolves to reach them effectively. 
If you're looking to expand your business into the global marketplace, there are exciting marketing trends to connect your brand with customers you've always wanted.
Our new e-book provides readers with the following insights:
The latest global marketing trends influencing businesses, including exciting technology, audience insights, and the importance of customer experience

Strategies to give ideas about opening your company to a global audience or expand your knowledge to try new tactics

Research related to emerging opportunities in global marketing
Download this e-book to receive:
The latest data on global marketing channels 

Valuable information on the technology influencing global marketing efforts, customer experience, and brand identity

A guide for how to adapt to a constantly evolving  marketing landscape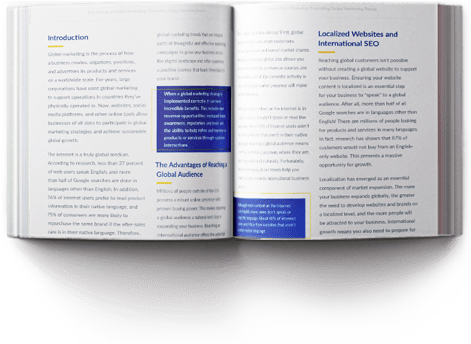 The Highlights
The world is open for business, and the future of global marketing can be as targeted or expansive as you want to make it. But, the global marketplace moves quickly. So, understanding trends, targeting business needs, finding the audience you want to reach and retain, and the best methods to reach them is critical to learn and implement now. Some of the key considerations in this e-book include:
Why go global?

Learn and implement localization so potential customers can find your business in their language and on their terms. 

Setting a tone for global marketing:

How Gen Z impacts brand awareness and sales, and why you should care about them.

The benefits of omnichannel marketing:

How a multi-platform experience leads to successful customer engagement and retention.

AI/VI/Metaverse: What are these technologies, and how can they bring your business to life bigger and brighter?