Trinseo is a $3.7 billion global chemical materials solutions provider and manufacturer of plastics, latex binders, and synthetic rubber. With 15 manufacturing sites and 10 R&D facilities around the world, Trinseo delivers innovative and sustainable solutions that help companies create products across a wide range of end-markets.
The Challenge
When Trinseo was spun out from Dow Chemical in 2010, the divesture provided assets, manufacturing sites, sales, R&D and engineering. Trinseo built an entire corporate infrastructure for itself, comprised of HR, IT, finance, legal, public affairs and supply chain functions. The communications team created basic marketing tools, including a corporate website.As the company evolved, Trinseo's public affairs team kept a pulse on customers and gathered their feedback to ensure their needs and expectations were being met. The insights proved eye-opening.
"About 60 percent of our business comes from Europe andanother 22 percent from Asia," said Donna St. Germain, Trinseo's Senior Leader of Corporate and Investor Communications. "We found that our customers weren't going to our English-language website. They could read English, but their preference was to consume our website content in their native languages.""
---
60% of Trinseo's business originates in Europe, with another 22% in Asia. They needed a way to satisfy those customers' language preferences.
---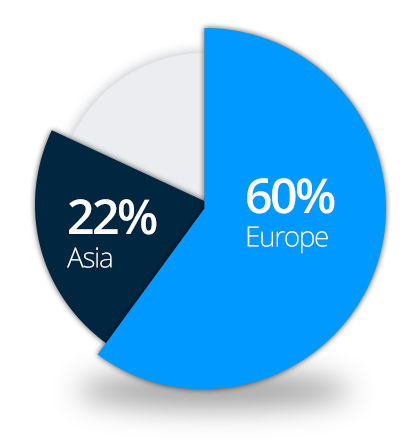 Trinseo's largest markets were Germany and China, so the need for local language websites was clear. However, Trinseo's lean team—comprised of a digital marketing communications professional and an IT business partner—had many other responsibilities and lacked the resources to manage the complex project on its own.
"If we tried to manage our multilingual websites in-house, we'd need to pay someone to translate, upload and update the sites every time we changed something," explained St. Germain. "We didn't have that skillset or bandwidth internally. We're just not staffed that way."