Several years ago, a leading U.S. equipment manufacturer expanded to serve customers in Latin America. Its leadership knew that localizing its website and multichannel content would boost engagement among its new Spanish-speaking customers.
"Our Spanish-speaking customers are very particular about language accuracy," the company's Director of Global Marketing said. "They notice when translation is wrong. We needed to find a translation company whose work would reflect well on our brand."
Shortly afterwards, the company engaged MotionPoint to launch its Spanish website.
The manufacturer knew that localizing its content would boost engagement among new Latin American customers.
Consistent, Accurate Translation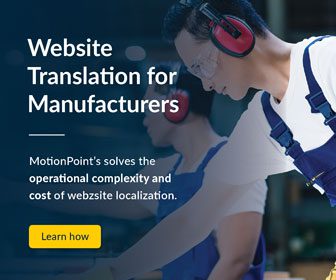 Before the site was translated, the company's marketing team collaborated with MotionPoint's linguists to develop a translation glossary and style guide. These important resources ensure translation consistency and a properly localized brand voice.
"The glossary and style guide paid off immediately in terms of accuracy and a smoother translation process," the director recently recalled. "For example, I know that if our English content says 'pipe,' the translators are going to reflect the proper industry terminology. That's really important to us.
"When you deliver information in the customer's language, and it's correctly translated, you're showing them that you care," he continued. "That's the experience they expect us to deliver. In return, we gain satisfied customers."
A Fast, Omnichannel Solution
The manufacturer's marketing team was impressed with MotionPoint's speed to market. "I didn't expect the site to be completed that fast. MotionPoint's turnaround is super quick," he noted. MotionPoint delivered the Spanish website in less than 90 days.
MotionPoint also translates the company's owner's manuals, user guides and product brochures. The company's technical writer is very pleased with the turnaround on complex and lengthy documents.
"Without MotionPoint, I would still be doing translations all day, every day. It makes my job a lot easier."
Further, outsourcing offline translations has eased operational burdens for other employees. For years, the company's Field Marketing Manager had been the company's translator for Spanish content. No longer.
"Without MotionPoint, I would still be doing translations all day, every day," she said. "It makes my job a lot easier."
MotionPoint's turn-key approach also enables smooth collaboration with the company's web management vendor. "Because the two vendors are dealing directly with each other, I don't have to be involved," she said. "Everything is handled in the background."
Winning Customer Loyalty
To succeed in Latin America, the manufacturer must persuade distributors and their customers—including dealers, retail stores, and service companies—to choose its products. That means building relationships with customers, versus taking a more transactional approach.
"We need to win our customers' loyalty because they have many brands to choose from," the company's Director of Global Marketing observed. "That's why it's so important to make an investment in their experience. Once customers are loyal to the brand, they keep that loyalty for years, maybe forever.
"A key way we do that is through a carefully translated website and other marketing materials," he said. "MotionPoint makes that possible."
Last updated on October 19, 2017