Insurance companies greatly benefit from translating their customer support websites to serve a diverse customer base.
The U.S. Spanish-speaking population is a great example: Currently, more than 41 million native Spanish-speakers live in the U.S., representing about 13% of the population. If you work within an insurance company, this percentage of consumers is probably even higher in your call center, if you're not offering them the ability to serve themselves online.
Industry veterans know self-service solutions such as FAQs, knowledge bases, how-to articles and troubleshooting guides are especially effective customer-service tools. And they're especially critical for brand-new customers.
For companies serving Spanish-speaking consumers, migrating customer service to the web dramatically lowers costs. Research shows it also improves customer and employee satisfaction.
The U.S. Hispanic Opportunity
Before we explore how in-language online self-service generates significant savings, let's examine the Spanish-speaking U.S. Hispanic market.
These consumers have been growing in influence and affluence for decades. Just between 2014 and 2015, 1.2 million Hispanics joined the U.S. population, representing nearly half of the total population added during that time frame. About 75% of Hispanics speak Spanish at home. Native Spanish speakers and bilingual Hispanics currently account for nearly 20% of U.S. consumer spending—over $1.5 trillion.
Despite this, U.S. Hispanics have historically been underserved by the insurance industry. Currently, about one in four eligible Hispanics is uninsured. According to Common Census, nearly 50% feel uninformed about the industry or products. Nearly 30% haven't purchased life insurance because "no one has asked them."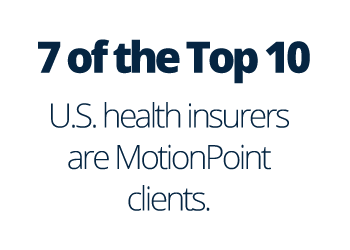 That's a mistake. As seven of the Top 10 health insurers know, these customers are worth courting—and they know how to do it. U.S. Hispanics are early adopters of new devices, are Internet savvy, and are widely considered "mobile-dominant" consumers. (This means they often prefer using smartphones to access the web over their desktop computers.) They're 1.5 times more likely to buy digital media than non-Hispanics, and access mobile banking and coupon services more often, too.
And like English-speaking consumers, they go online to find answers to their customer-service questions. If they visit their provider's website and can't serve themselves, they'll call their provider's customer service center to engage a Spanish-speaking support agent. Or worse, they'll feel unsupported and alienated.
Insurers that don't offer multilingual online self-service experience much higher non-English call volumes, higher costs, lower customer satisfaction and agent burnout.
Online Self-Service Decreases Costs
Within the past decade, digital channels have become the preferred method for customers to seek product information, and support. According to one industry survey, nearly 50% of consumers search online first for customer service questions; another nearly 25% "usually" search online first. The math is simple: well over 70% of customers are hitting the web for answers long before they call a customer support line. The demand is undeniable. And so are the cost savings. For years, we've known that online self-service content reduces call center and other customer service costs. One McKinsey report suggests the practice doesn't just "represent a paradigm shift in customer satisfaction" by reducing call volume by up to 20%, but also delivers incredible savings when compared to operating a call center.
As Consumer Reports reported in 2014, a customer-service transaction handled by a human often costs businesses between $2 and $10. In contrast, online self-service solutions cost "just pennies."
Organizations that invest in web self-service content can generate a virtuous cause-and-effect cycle that results in "an average $22 million saved on unnecessary channel escalations," one analyst reported.
Most insurers have already done the hard (and expensive) part—they've created robust online self-service capabilities in English. Many of the leading insurers have figured out that MotionPoint makes it quick, easy, and inexpensive to extend this experience to non-English speakers, too.
Spanish Self-Service Increases Customer Satisfaction
Allowing Spanish-speakers to serve themselves online makes sense because they—and English-speaking consumers—have already embraced online customer-service options. According to one Forrester report (which goes way back to 2010), over 70% of customers prefer this content to phone or e-mail support. A more recent study indicates over 90% of customers would happily use an online self-service knowledge base if it catered to their needs.
In fact, companies that don't provide intuitive solutions to Spanish speakers' online customer-service requests stand to lose customers.
2015 Forrester data reveals that nearly 80% of U.S. online adults believe that saving customers' time is the most important thing a business can do to provide great customer service.
Another way FAQs, knowledge bases and other self-service content woos customers is by improving "first call resolution," or FCR, rates. (This is the percentage of issues that can be resolved in a customer's first customer-service call.) Research indicates that for every 1% improvement in FCR, call centers see a 1% in customer satisfaction rates.
According to a Capgemini and Efma World Insurance Report, insurance companies should consider this content as "must haves" in their self-service support sections…
Policy changes
Claims services
Policy renewal
…followed by other capabilities such as user account management, and fund management and tracking. For resonant—and satisfying—self-service customer support experiences, this content should be offered in Spanish. If this content isn't available on a translated website, consumers will experience friction and frustration.
It Boosts Employee Satisfaction, Too
Remember that stat we mentioned above, about how every 1% improvement in FCR, call centers see a 1% in customer satisfaction rates? They also see a 1% to 5% improvement in employee satisfaction rates, too.
It's no secret turnover rates in call centers are brutal—sometimes as much as 50% in larger call centers. This burnout is largely caused by monotonous interactions with customers. Studies have found that the less stimulating these customer-service interactions are, the more bored and dispirited employees are likely to become.
"When companies put an effective self-service knowledge base in place and customers start answering easy questions themselves, support staff then field a larger proportion of more challenging questions," writes a software advice expert for a Gartner-owned company. "More challenging questions present better opportunities for staff to grow their skills."
Teams with such ever-growing skills are better equipped to handle complicated customer questions and issues—which can lead to much higher FCR rates. And as we've pointed out, high FCR rates lead to higher customer and employee satisfaction.
And by reducing burnout and turnover, companies can further save on training costs, and prevent downtime when employees leave.
Wrapping Up
Offering multilingual online self-service is a legitimate win-win. It saves insurance companies money, and wildly improves relationships with employees and customers.
MotionPoint helps seven of the Top 10 U.S. health insurance companies provide multi-language online services and support. Contact us to learn how we can help your company cut costs while significantly improving customer satisfaction.
Last updated on September 19, 2016