As Canadian organizations seek to expand and reach new customers online, they don't need to look far to find a thriving market: Chinese-speaking Canadians. Some analysts have called them "Canada's most sought-after citizens."
Folks living outside Canada may be surprised to learn the country has been a beacon of Chinese immigration for decades. During the 20th century, hundreds of thousands of Chinese migrated to Canada, mainly from Hong Kong and Taiwan. This wave subsided after the 1997 transferal of Hong Kong's power to China. Now, mainland China is the primary country of origin for these immigrants.
Chinese Canadians — an ethnic group that represents Canadian residents of full or partial Chinese ancestry — produce an increasingly important cultural, social and economic impact within the country. According to 2011 Canadian census data, there are nearly 1.5 million Chinese Canadians living in the country, or about 4.5% of the country's total population (and more than 10% of total population in some provinces).
Don't let that seemingly small number fool you. Canada's Chinese community is one of the world's largest, and the second largest in North America, behind the United States. In fact, based on Canadian and U.S. census data, the percentage of Chinese Canadians in relation to Canada's total population is nearly four times what it is in the States.
Even as mainland China's economy grows, many of that country's business elite identify Canada as an ideal place to emigrate. A 2010 Bank of China/Hurun Report survey of nearly 1,000 Chinese millionaires revealed that 37% considered Canada a "preferred destination" (just behind 40% for the U.S.). The primary reasons for emigration included a better education for their children, and better healthcare.
Nearly half of those respondents said they were considering emigrating. Fourteen percent had already moved, or filed immigration paperwork.
The Chinese Canadian market's growth has been robust. From 2001 to 2011, the Chinese ethnic population grew by more than 35%. Of the more than 40,000 people who immigrated to Canada from the Asian-Pacific region in 2013, almost 40% were Chinese families. And a 2013 study suggests that — at anticipated immigration and birth rates — the Chinese Canadian population will explode in several key markets in the next 15 years. For instance: Vancouver's current ethnic Chinese population of 396,000 will rise to 809,000 by 2031. Chinese Canadians will then represent nearly 25% of that city's population.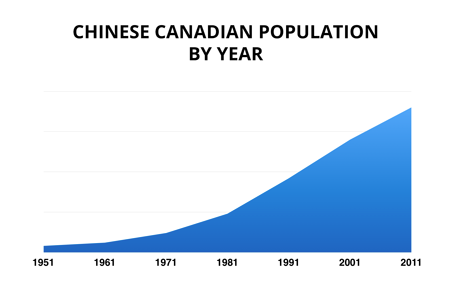 This market also skews younger than the Canadian average. 2011 census data reveals that 19% of all Canadians identify themselves as members of a "visible minority," 65.1% of whom were born outside the country. This visible minority population has a median age of 33.4, compared with 40.1 for the population as a whole.
Perhaps most significant, the Chinese Canadian market is well-educated, and increasingly affluent. In many of the largest Canadian universities, Chinese Canadians comprise nearly 25% of all students. In some schools, that percentage may be as high as 40%! Remember, this is a group that presently represents 4.5% of the country's population.
Second-generation Chinese Canadians professionals are more likely to work in professional and managerial roles (such as upper middle-class jobs requiring a college degree) than the national average: 35%, compared to 15.2% for all Canadians. And according to data presented by the Asia Pacific Foundation of Canada, Chinese Canadians are very well-represented in high-paying white collar jobs such as computer software engineers, computer scientists and systems analysts, medical doctors and scientists, electrical and electronics engineers, and others.
A 2006 study determined that salaries among second-generation Chinese Canadians was at least 13% higher than the national average for other immigrant groups. This market also wields more purchasing power than the national average. Research from Ipsos (cited by marketer Jim Mintz) indicates nearly 50% of Chinese Canadians have "investible assets" of $50,000 or more, compared to 36% for the rest of the country.
According to a 2007 survey of Vancouver-based Chinese Canadian families, about 60% have an annual household income of over $45,000 CAD ($51,100 CAD in 2015 dollars, adjusted for inflation). Nearly one-fifth of all Chinese Canadian households made more than $100,000 annually (around $113,700 CAD today).
This is a thriving and growing market. So how can Canadian companies — and organizations beyond Canada's borders — best reach these savvy, affluent residents?
We've found the easiest and most-intuitive way to establish a customer's trust is to speak her preferred language.
The MotionPoint Perspective
According to that 2007 Vancouver survey, nearly one-third of all Chinese adults have lived in Canada for less than 10 years. That's huge. When immigrants arrive, it's clear they are far more fluent in their native spoken languages (often Cantonese and Mandarin) and native written languages (Traditional Chinese and Simplified Chinese) than English and French.
In fact, the survey stated that 49% and 43% of Chinese Canadians speak Cantonese and Mandarin at home, respectively, regardless of how many years they'd lived in Canada. This doesn't mean cultural assimilation isn't happening, of course — government statistics reveal that 87% of Chinese Canadians have a "conversational knowledge" of at least one of Canada's official language (English or French).
Still, especially for recent immigrants and Chinese Canadians who immigrated decades ago (when English and French fluency among peers wasn't as common), offering website content in Simplified and Traditional Chinese often creates immediate credibility within this market. (Generally speaking, visitors who prefer to read in Traditional Chinese hail from Hong Kong and Taiwan, while Simplified Chinese fluency is far more common among mainland China immigrants.)
In the years we've spent translating & optimizing websites for the Chinese Canadian market, we've discovered many insights about these consumers — particularly new immigrants who've been in-country for less than five years, and older residents. These people aren't completely fluent in English, but their passing familiarity with the language, and popular brands & services, propels them to English-language websites.
Based on our research, these visitors rarely, if ever, assume a mainstream Canadian website will be in Chinese. However, when they visit a MotionPoint-powered website and are presented with a clear & welcoming "opt-in" to experience the site in their native language, they lean in. Website engagement increases dramatically.
Further, returning visitors are often far more engaged than first-time visitors. Page-per-visit increases by as much as 69%, and some conversion rates rise by 130%.
Interestingly, we've found that — despite the ever-growing number of mainland China immigrants who read Simplified Chinese — in some industries, Traditional Chinese is a predominant driver of traffic. This is especially common in banking.
We've seen Traditional Chinese traffic at some banking sites skyrocket — in some cases, more than double over the course of months — while Simplified Chinese traffic remained about the same. We've also noticed that Traditional Chinese visitors and Simplified Chinese visitors often use banking websites in very different ways. For instance, Traditional users are more likely to research stocks & investment information, while Simplified users search more for credit card information.
Our data suggests this behavior likely stems from levels of economic stability within the Chinese Canadian community: longtime residents from Taiwan are more financially secure, while mainland Chinese immigrants may have lived in Canada for less time, and haven't yet acquired investible assets.
Speaking to wider trends, we've also determined that advertising these Chinese websites absolutely works. Companies that invest in robust in-language PPC campaigns achieve meaningful swells in website traffic — sometimes as much as 70% higher visits, which results in greater engagement and conversion.
Indeed, even when a Canadian company's Chinese website traffic is less than 1% of what its English website traffic generates, that company still generates meaningful success metrics, connects with a valuable & growing constituency, and achieves ROI.
And Canadian companies can win big with these Chinese sites, far beyond their country's borders. As we recently reported, consumers in mainland China are increasingly making purchases on Western e-retail sites, thanks to their superior selections and much lower prices. Canadian companies that offer their sites' products in Chinese (and offer international shipping) stand to generate significant incremental revenue.
Are you with a Canadian company keen to connect with the growing Chinese community, or a company beyond Canada with ambitions to woo this thriving group? Contact us. We'll help you learn about these residents, and communicating with them, in no time.
Last updated on April 23, 2015