The demand for content localization, as opposed to a literal, word-for-word translation, has become a requirement for businesses aiming to "go global," rival their competition, and achieve a successful online presence. 
While technology trends drive innovation in the translation industry, they come when demand is also growing. Businesses are having to publish content more often and update pages more frequently as online products and services become increasingly available to consumers across the globe. Companies are turning to the translation technology industry to rapidly help make their products searchable and understandable in multiple languages. As this trend grows, language companies turn to AI translation software to meet the high and urgent demands for localized online content.
What is AI Translation?
Artificial intelligence (AI) is an aspect of computer science that gives a machine the ability to learn and adapt instead of simply processing data based on a set of instructions. With translation and localization, AI allows a device to instantly translate from one language to another.
Artificial intelligence is a perpetually hot topic because of its rapid growth and improvement in the various ways AI touches all industries. With AI translation, the intersection of machine learning and language translation can help businesses and other organizations worldwide access new audiences and facilitate international growth more effectively than ever before. AI is already used in many ways to make translation processes faster and more efficient, including integration, workflow automation, automated quoting, and machine translation.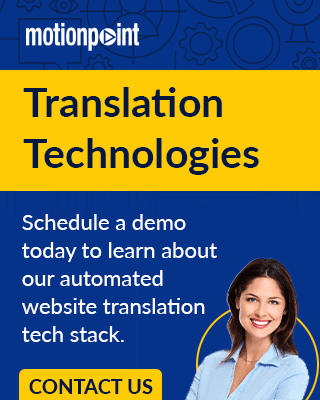 The Role of AI in Translation
When people think of AI translation, they most often think of Neural Machine Translation (NMT). With NMT, AI can "learn" from completed translations using Recurrent Neural Networks, which pick up on word use, sentence structure, and intent based on context drawn from an extensive artificial neural network that resembles what happens in the human brain. Neural machine translation has proven successful in translating content for companies. An adaptive NMT engine can learn a brand's voice, tone, and style and leverage that information to produce translations.
NMT has advanced from Phrase-Based Machine Translation (sometimes also referred to as Statistical Machine Translation). These translation systems built statistical models of the relationships between words, phrases, and sentences in a text and then applied the model to a second language to convert those elements to the new language. NMT is effective because it requires less memory and data to perform well and allows all translations to be connected, which creates better context and accuracy for large volumes of content. NMT translates whole sentences rather than just individual words, making translations faster and more accurate. 
NMT isn't the only way AI is leveraged within the translation industry. For instance, AI is used by large companies for its translation function in place of human translators. With the development of voice recognition systems like Alexa, language recognition software like Siri, and apps like Google Translate, AI has accomplished an incredible amount for language translation. For example, Facebook (META) has a function for translating text to text from one language to another, and Microsoft LUIS is used in chatbots to communicate with users in natural language. A more advanced version of Google Translate even has a camera function that allows it to translate a word by hovering a phone above the word or sentence.
Advantages and Drawbacks of AI Translation Software
AI translation software offers many practical advantages to translation. AI translation software can efficiently speed up the translation process, which saves time and money, and builds translated content faster, allowing quicker entry into new markets. AI translation software has become valuable enough to offer a base understanding of meaning in translated content, and translation quality can improve over time by "training" the database's language patterns with additional content.
There are also drawbacks to AI translation software that are important to note. AI translators may be more accurate than ever, but they aren't humans with a deep knowledge of local cultures. Accurate translations can still be misleading or offensive to local people, and humor is something that computers aren't well-equipped to analyze. Localization challenges for AI include context, jargon, colloquialisms, and other cultural and language nuances. In addition, AI "training" can be fast, but creating training data is time-consuming and often requires interpretation by humans. This creates a limited translation ability. 
Combining AI Translation with Expert Linguists
Content translation can never be completely automated. The future of translation will combine human intelligence and AI-powered machine translation – a hybrid model of human translators and AI tools to form a single translation team. Machine translation will ensure AI-generated translations are accurate and fluent, while human translators will make final changes to cater to specific audiences and localize the translated content.
Businesses can accurately apply an AI-human approach to their translation needs. This includes using NMT for translating all content combined with human translation during post-editing or targeting web pages that would benefit from the speed of AI translation and separating them from those with the need for a more nuanced, human translation. MotionPoint is a localization company that combines cutting-edge AI technology with expert linguists to provide you with well-rounded, effective content translations to meet your budget, needs, and, most important, global outreach goals.
Last updated on May 09, 2022