Earlier this month, Rick Barbari of Digital River hosted a compelling webinar on a topic that's certainly near and dear to us at MotionPoint: How to Optimize Your E-Commerce Site for the Cross-Border Consumer.
Digital River offers e-commerce and online payments services; Barbari is a group VP there. During the webinar, he painted a vivid picture of the international e-commerce space, and how it's becoming crucial for companies to embrace new markets – particularly in those markets' preferred languages – to boost market share and revenue.
"The cross-border consumer to an online retailer is an incredibly important market segment," Barbari told attendees, "and whether they intended to be or not, they really are open for business to them."
Quantifying the Opportunity
Digital River certainly has a unique perspective on the space. Babari said the company processes over $53 billion in payments, many of them cross-border, from such clients as Panasonic, Spotify and Microsoft.
The company recently partnered with PYMNTS.com to create the X-Border Payments Optimization Index, an online resource providing advice about, and identifying gaps in, cross-border online shopping experiences. It evaluates over 150 e-commerce sites in 10 countries, in nine industry categories.
Most e-retailers aren't fully prepared to accommodate international shoppers, the Index found. Thankfully, creating a welcoming experience for these new customers is often a straightforward process.
"The key point is that merchants need to be aware they are serving the cross-border consumer," Barbari pointed out, "and they need to make a deliberate decision about whether they want to do so."
The MotionPoint Perspective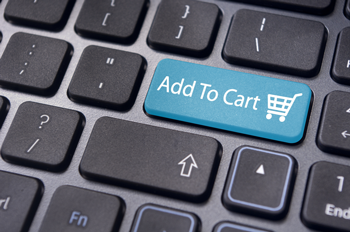 Barbari's webinar pointed out a few retail industries that performed poorly in the Index's eyes, but one sector consistently stood as an overachiever: travel websites. One travel site scored a 94!
Have Site, Will Travel
Thanks to the built-in international customer base, "the travel segment has done a more aggressive job of removing friction" between customers, content and transactional experiences, Barbari explained.
This jibes well with MotionPoint's experience localizing and optimizing international sites for the biggest brands in travel. The travel sector doesn't just understand the value of providing online experiences in multiple languages; it's especially progressive in pushing that localized content to those new customers' devices of choice.
In the case of one of our travel clients – an international airline that serves U.S. Hispanic and Latin American markets – MotionPoint created a Spanish-language mobile site for booking, updates and more. It was a smart play indeed, considering these users use the mobile web more often than the U.S. average.
The results of this progressive cross-border business tactic was immediate, sustained and astonishing. Mere weeks after the Spanish mobile site was launched, the airline's total Spanish site traffic (across desktop and mobile) grew 80%. Revenue from Spanish mobile users rose 363%. Now the airline generates more revenue in one day than it costs to operate the Spanish mobile site for an entire year.
Localize, Localize, Localize
According to Barbari, websites fully embracing cross-border best practices should be available in at least six languages. (Which languages depends entirely on where the company wishes to expand online.) Again, this closely aligns with MotionPoint's ethos. We recommend a thoughtful and deliberate approach to identifying ideal international markets … and even provide help with that identification when clients or prospects ask.
We believe that methodical, judicious expansions into new markets gives companies ample time to generate ROI, and learn nuances in international marketing. These best practices can then be leveraged into additional markets when appropriate.
A few years ago, MotionPoint analyzed the characteristics of what made localized websites successful – both in the short- and long-term. It became clear that about one-third of a localized site's value came from having that site available in a market's language of choice. That's a powerful – and mission-critical – foundation, should companies wish to succeed.
However, the remaining two-thirds of value hails from other localizations and optimizations – things often overlooked by companies and other vendors. Thankfully, Barbari identified some of these important points during his webinar.
Local Currencies and Payment Types
Money matters and friction-free transactional experiences are vital to a company's primary-market site (which is often in English). Why wouldn't those characteristics be any less important for a company's international sites?
Barbari spoke to these points. Displaying local currencies is vital to generating customer trust, he said. "Consumers in this scenario are often prone," he explained, "because they have no other choice to go to the chargeback."
Also critical is supporting a market's preferred payment methods, Barbari said. Common payment types in some markets (such as PayPal) may have lower adoption rates in others. Still others have unique payment platforms such as iDEAL in the Netherlands, or Alipay in China.
Digital River recently wrote about this topic. "Accepting local cards makes sense from both a customer and a processing perspective," it said. "Online e-commerce merchants who accept the most popular alternatives – such as real-time Internet Bank Payments, Electronic Fund Transfers and Mobile Payments – can generate significant sales lift."
MotionPoint's data and research absolutely supports Barbari's points. For months, one of our e-commerce clients in China accepted credit cards exclusively. But after integrating Alipay support, revenue increased. Soon, a full one-third of its site revenue hailed from Alipay transactions. (Alipay holds the largest market share of e-wallet solutions in China, with over 500 million registered account holders.)
Yet another MotionPoint client who recently expanded online into China also saw remarkable lifts in revenue and traffic, post-Alipay integration. Its conversion rate grew by 217%, the quantity per transaction increased by 33%, and revenue grew 210%. Return visits went through the roof.
Customers buy more, and return more often, when local currencies and payment types are supported.
And More…
Barbari provided even more thoughtful best practices during the live webinar. Learn more what he said over at Internet Retailing.
Curious to learn more about how your company can optimize its international efforts to generate more brand loyalty and revenue? Contact us, or discover how we've helped hundreds of companies dazzle new customers and generate ROI.
Last updated on July 22, 2015