Expanding globally to approach new customers is considered one of the best decisions to help boost your business. If you are planning on growing internationally, translating business content is a process through which value is created for customers and other stakeholders. A company's ability to integrate the translation process within its operations, as well as the ability to control it, determines the quality of the translation outcome and the value it generates.
When you work with a translation provider, you will not always know who your translation stakeholders are, what they know about your brand, what experience they have, and how their work impacts the quality of translation you will receive. Here is how to work through the process of partnering for website translation, including figuring out your needs and goals, what information you will need to provide, what type of translation options are available, and how to:
How to Work with a 3rd Party Translator
Step 1: Define Your Goals and Needs
Set clear objectives for translation and localization projects. When leveraging a translation partner, you should ask whoever is handling the project to provide details about who will be involved in the process and what measures they take to ensure your objectives will be achieved.
There is crucial information you will need to provide to whomever you decide to work with, which takes some thoughtful estimation and pre-work. These extra measures include:
Estimating the volume of words or the number of documents to be translated

Identify the source languages and target languages you need your content to be translated and localized to

Determine the target audience

Assess the difficulty of the content

Assess timelines and the urgency of the project

Create a defined style guide and formatting standards
Step 2: Develop a Localization Strategy
Next, you must develop a localization strategy, an overall plan, and an approach to adapting your business content, offerings, and messaging in new countries. Thus, addressing content differences in languages, cultures, customer behavior, and social norms is necessary. In addition, developing a solid localization strategy means your content and marketing messages will be more appealing to new audiences. The goal is to give your brand the same look and feel created specifically for your new target market, irrespective of their native language, local culture, or religion.
Step 3: Evaluate Your Translation Partner Options
You do have several choices for how you want your business content translated:
Level 1: NMT
Neural Machine Translation (NMT) is the most advanced form of automated translation software available. With recent advances in self-learning AI, deep learning, and big data, NMT systems essentially "learn" new languages and apply knowledge to produce translated content that is more accurate than previous machine translation approaches.
Level 2: Freelancers + NMT
NMT is not without its flaws, which include the inability to translate words outside its database vocabulary and the failure to translate fine creative copy. So, if you want to localize content, you will need expert human translation to pair with NMT. This hybrid approach would allow a freelancer to 
Level 3: Language-Service Providers
A Language Service Provider (LSP) offers translation, interpretation, localization, and additional language services. The services can include language translation, website translation, digital content creation, and multilingual narration. The structure, support, and expertise of highly-skilled LSPs produce quality results that save companies from costly mistakes from poor translations.
Level 4: Concierge Level Language-Service Partners
A full-service Language Service Partner with concierge-level services, such as MotionPoint, is an accurate end-to-end translation and localization option. A Language Service Partner goes above and beyond traditional LSPs. MotionPoint partners with businesses to manage technology, perform international SEO, host websites, and perform QA, among other services. Language service providers (LSP) blend the expertise of certified linguists with technology to provide a complete experience.
Step 4: Choose a Method of Translation
When you have identified which option will work best for your business, selecting a freelancer or company to work with is the next step. To identify the most cost-effective translation solution, consider the cost and the turnaround time for the project and determine if the quality assurance/workflow process fits with your
Step 5: Translate and Evaluate
Provide the localization provider with all necessary source content, timing requirements, and any files they may need. To ensure the translated content is what you agreed upon, you will need to take existential steps after completing the translation. This involves:
Monitor the progress of the project

Evaluate the quality of the translations

Verify the accuracy of the translated content

Test the localized content to ensure it meets the desired goals
Benefits of Partnering with a Translation Service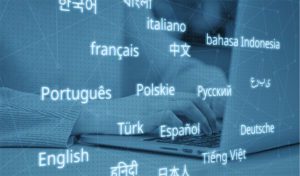 Dedicated Expert Linguist
One massive advantage of hiring a professional language service provider is they employ native speakers and professional linguists who have studied languages and have proven translation experience. In addition, an LSP will assign a dedicated linguist to your project so that that person can learn and understand your brand.
While you may have a native language employee in your office to help translate some content, if you have goals to localize content or have large translation projects, they may miss small language and cultural points that are important for a good user experience. As well as needing to be made aware of recent changes to translation services that have had a significant impact. LSPs can also offer multiple language translations if you need to add new languages in time.
Improved Accuracy With Translation Quality Assurance
There are no downsides to having accurate translations. Translation quality assurance (QA) is the degree to which translated content meets predefined standards or requirements. Translations should convey the tone and message of the original text as faithfully as possible and consider the target audience's regional and cultural factors. QA is an integral part of the translation process when you partner with a high-quality LSP.
Reduce Overhead with Lower Translation Costs
With a professional translation company, translators maintain awareness of changes in the culture and language, keeping the same tone and voice throughout the translated content. This option allows your employees to focus on their areas of expertise to impact the company's bottom line significantly and minimizes in-house employee training since assisting a native speaker, or someone who may be interested in translating content can be taught translation takes time and money. 
Access to a Wider Variety of Translation Services
A professional translation company works with various translation services, including the latest technology, app, and software integration, which would be unavailable or expensive in-house. Technology such as translation memory (TM) tools that feature linguistic databases leverage words and reduce your translation costs, give you a shorter turn-around time and maintain consistency. There is also a lower margin for errors when you partner with a professional translation company and benefit from their technology.
This also includes metrics after your translations have launched – LSPs can provide real-time reporting so you can understand how your translations turn into sales and business interest.
Improved Translation Workflow Efficiency
LSPs have the people and tools to deliver high-quality translation services at scale. Throughout the translation and localization process, translation tools play an essential role by ensuring accuracy and consistency for each project. In addition, automated processes for proofreading, file preparation, and formatting improve project management and offer workflow efficiency you would not be able to achieve in-house. 
MotionPoint Can Handle Your Translation Needs
By partnering with a 3rd party for translation and localization, your business can be free from the burden of human resources, including recruitment, assignment, and management of translation talents. MotionPoint offers a full suite of translation services and works with you to handle translation and localization projects, including finding high-quality professional linguists, quality control processes, and critical decisions related to translation tailored to your needs.
Last updated on January 19, 2023