It's easier than ever to connect with new customers (and generate more revenue!) by expanding into new international markets—especially through online channels. Indeed, it is projected that by 2023, worldwide retail ecommerce sales will total $6.169 trillion and make up a 22.3% share of total retail sales, up from $3.351 trillion and 13.8% in 2019.
E-commerce sites can achieve growth in new markets, when they are published in local languages. Research has shown that nearly 60% of global consumers spend more time on sites in their own language than they do in English—or boycott English-language websites altogether.
What is International E-Commerce?
International e-commerce is the process of selling products or services across borders on an electronic platform. Unlike the physical retail industry, e-commerce can access new and growing markets with relatively minimal investments. 
Why should you invest time and money into international e-commerce? The world is wide open for business, and the possibilities for growth are immense. You don't need a brick and mortar store to sell products internationally, and your customer base can expand exponentially, if you take the time and effort to develop a thoughtful global e-commerce strategy.
International E-Commerce Tips and Best Practices
Everything Starts with Research
Before you jump into an international market, you must conduct research. Research is essential to discovering everything from finding out if there are restrictions to entering particular markets, potential competition to your business, or if your product will even be sellable in your target market. A lot of uncertainty can be eliminated and money can be saved by understanding a new market before you dive in.
One of the most important research relates to your target customers, including shopping preferences and habits. Ideally, you should have flexibility to engage international shoppers from different cultures and locations. Understanding potential customer expectations, habits and motives are crucial to successfully expanding internationally. 
One way to assess the potential of a particular market is to explore the online search demand around your product or industry. Tools such as Google Trends shows you internet search trends in various markets – type in a term or topic in the search box, and you'll see how your searched term is trending globally over time. Keyword research tools like KWfinder can give you specific estimates of keyword search volume by country to inform you of how to best develop your website and online marketing strategy. The Facebook Ads Library allows you to see which competitors within each country are running ads, what they look like, and how long they have been running. Also, conducting market research through survey companies like SurveyMonkey can further assess international demand and attempt to uncover opportunities that may not be present domestically.
Finally, it's essential to research compliance laws and regulations specific to countries where you want to do business. Import and export regulations can be confusing and are constantly changing. This includes learning about import regulations as well as which export regulations may apply to your products. 
Craft an International E-commerce Strategy
After you lay research groundwork for your business on an international level, transform your findings into an actionable strategy. A solid international e-commerce strategy develops plans to achieve reachable goals for your business. Ask yourself and explore: 
What markets are worth moving into, and why?

Who do your target audiences look like in each of these markets? 

Where are you trying to reach your target audience? Will it be through a higher intent with paid and organic search or lower intent with social media? Think about how well certain channels perform domestically for your business and how it may be applied across borders. 
And finally, one of the most important questions to explore: How are you going to adapt your business's website, ads, social media presence, etc., to speak to these audiences? To achieve success within international markets, a strategy must include translation and localization of content.
Prioritize Localization
To enter global markets, you have to understand the role of translation and localization company. Localization goes beyond word-for-word translation, and includes transforming translated language into culturally relevant, nuanced information that familiarizes international customers with your business and gives them confidence to make a purchase. Research shows that online shoppers value companies who have websites in their own language. Some facts: 72.4% of global consumers indicated they prefer to use their native language when shopping online, and 56.2% of the consumers said the ability to obtain information in their own language is even more important than price.
Localizing website content includes supporting preferred payment options for targeted locations. Localizing campaigns and other marketing content accurately communicates specific interests and pain points to the right target audience in each market. Sales and promotions may also need to be adapted since shopping holidays are often country-specific. Finally, your customer service team can respond to queries in the language they're submitted, enabling end-to-end support for your customers' needs.
Test, Optimize, Repeat
Once you have a research-backed strategy in place and localization efforts support customers in your target market, start testing your strategy. There's no need to rush – test strategies and slowly develop a formula that works for you. Use analytics data to make adjustments to your marketing plans. Frequent target testing allows you to continually optimize your site experience. It's important to stay current not just on what works or doesn't work for your business, but also on larger market preferences and pressures. Then use your findings to see how global customers respond.
International E-commerce Trends
Global markets are waiting for your business. Here are a few e-commerce trends that are catching on across borders that will help you develop a more thorough plan of action to expand your business globally:
Using "Buy Now, Pay Later" 
Buy Now, Pay Later (BNPL) is a solution for point-of-sale financing that has grown increasingly popular in recent years, and is beginning to show up at international checkout pages. BNPL features installment payments for consumers who either don't have access to credit or don't want to make a purchase with a credit card. BNPL allows shoppers to purchase a product and pay in a predetermined number of installments over time, with little to no interest rates and hidden fees. 
 Create a Faster E-Commerce Checkout Process
Research shows that 55% of global consumers said they only buy products from websites that provide them with information in their own language. This includes navigating the checkout process. Selling products in different countries means understanding the different preferences for international visitors, including language, currency, and payment options. Optimizing your site for international visitors will allow for a faster, more streamlined e-commerce checkout process.
A Strong Online Presence for the Wholesale Industry
Wholesale e-commerce is a business-to-business (B2B) model where, instead of selling your products individually to consumers, you sell them in bulk and at a discount to other businesses. A recent B2B e-commerce report shows the global B2B eCommerce market valued at $14.9 trillion in 2020, which shows the rise of specialized marketplaces, including international, for B2B buyers and sellers.
Challenges of International Ecommerce: Key Considerations
1: Technical Infrastructure
Launching sites in international markets doesn't always mean those sites should be hosted by servers in those markets. In many cases, that isn't possible due to local infrastructure limitations. It's also often unnecessary: latency issues are uncommon when using robust solutions that can smartly distribute server loads across larger regions (such as Europe).
However, the need for local hosting—or geo-based server load balancing—can be quite high in other international markets. Content Delivery Networks (CDNs) and geo-load balanced servers are often used by companies to improve domestic site speed or reliability, when delivering their primary-market site content (often in English) to core customers. However, in international markets, CDNs have the added benefit of making it easy to "play nice" with a country's laws. Finding a solution or turn-key vendor that provides dedicated IT resources and geo-load balancing, when appropriate, is imperative. Geo-load balancing directs a client request to the service node that is [geographically] closest to the client, or to the node with the most capacity.
Finding a solution or turn-key vendor that provides dedicated IT resources and geo-load balancing, when appropriate, is imperative.
The result? As Ashley Erumsely , Senior Direcor of Solutions Engineering for MotionPoint, explains: "The system functions at optimum speed, which is great. But there's also an ongoing component to this. Observation and care over time can help identify optimizations to ensure load time is decreased, and site functionality remains intact."
2: Logistics / Geopolitical Status
The Internet and e-commerce have ushered in an era of untold changes in cross-border conversation, culture and consumption. According to Asendia, a provider of international shipping services for businesses, companies that ship overseas show an average increase in sales of nearly 15% when independent e-commerce businesses gain access to foreign markets.
In the end, governments and bureaucracies have the final say in the flow of most cross-border commerce. Your company will need to "play nice" with international markets' import regulations, tariffs, taxes and other nuances. (This includes shipping prohibited and restricted items, which vary from country to country.) Your organization must abide by export laws, too; some governments simply won't permit companies to legally ship to specific countries.
Further, some international markets are infamous for local corruption, supporting terrorism, or are in a locale that's prone to natural disasters. These things and more can threaten reliable e-commerce transactions and delivery.
There are a few key ways to mitigate these risks.
"Firstly, align your product or industry with the potential threats of an area, and have solutions for those problems," Aaron Hakenson, Senior VP Sales & Account Management,  says. "For instance, some shipping providers have issues shipping packages to countries like Pakistan. Others don't. Choose fulfillment options that can accommodate your international expansion needs."
You can also partner with a vendor already fluent in these marketplaces, and their unique challenges. They can educate your company on best practices in these markets, viable fulfillment and marketing options—or in some cases, advise you to engage other markets poised to deliver greater returns at less risk.
3: In-Market Customer Support
Companies keen to expand into international markets shouldn't forget about the customer support needs these markets will inevitably have. If your organization provides customer service via e-mail, inbound phone calls or "contact us" forms online, you should deploy localized versions of these experiences for new consumers, too. This is especially important if you already offer call center support in different languages. Localizing your website and other assets can instantly decrease the incoming volume of customer support calls. 
While a localized website with customer service FAQs (translated into the local market's language) will dramatically reduce customer service requests through self-service, your company will still field calls and e-mails. This often means translating e-mail content, and providing localized marketing collateral for your customer service representatives.
4: Relevant Payment Methods
"Without using an all-in-one fulfillment partner," Aaron says, "most payment providers by market allow for simple adoption into CMS/CRM platforms. Look for partners who can identify the proper payment methods and units of measurement for each market. Reputable vendors use tracking alarms and QA teams to ensure these payment methods are working correctly at all times."
Indeed, U.S. retailers are very familiar with credit cards and PayPal, but most don't understand that those payment types aren't actually ubiquitous beyond U.S. borders. If these customers don't see their preferred payment options, they won't transact.
Our research absolutely supports this. Aaron recalls one client who launched an e-commerce site, and accepted only credit card payments for the first few months online. "But after integrating local payment options, revenue skyrocketed," Aaron says. "Within weeks, a full third of its site revenue hailed from these local options transactions. Orders were up, too."
If these customers don't see their preferred payment options, they won't transact.
Another client also saw amazing lifts when adopting local payment platforms. Its conversion rate grew by 217%, the quantity per transaction increased by 33%, and revenue grew 210%.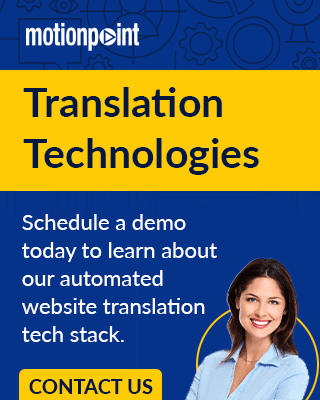 Ready to Expand Your E-Commerce Business Internationally?
Marketing platforms for international e-commerce include messaging in real-time and across every kind of channel – websites, mobile, social media, email, and direct mail, to name a few. To maximize marketing efforts, your content needs to be personalized, localized, and seamlessly delivered to targeted audiences wherever they live. The key to integrating translation and localization is to utilize a flexible translation service provider that can quickly provide updated, relevant content to all of your customers, in their language. 
MotionPoint can assist you with your e-commerce website translation efforts, including developing the types of translation that support your needs, and implementing changes and updates quickly and efficiently. No matter the translation, we have solutions to support all of your e-commerce needs, wherever your business takes you.
Last updated on May 30, 2022