Businesses that emphasize customer experience are often backed by stats stating that nearly 73% of customers prefer to purchase a product or service from a site that provides information in their language. To meet the various challenges of translating websites and publishing platforms, various translation technologies have advanced to help businesses support their global customers in their preferred languages. Those technologies are proxy translation and translation integrations. You can read more about these localization technologies and see which approach is right for you and your business.
This is the first installment of a two-part guide highlighting the translation workflow management between proxy translation vs. translation integrations. Knowing the different methods of translation technologies can help make choosing the right translation service provider a lot more straightforward and effective.
What is a Translation Workflow?
Translation workflow involves the management and process of translating content. Users must choose which content needs to be translated and assign it to the right linguists. This often involves various collaborators such as project or localization managers, linguists, proofreaders, editors, and quality control that ensures the authenticity and accuracy of those translations. The people and processes in the translation workflow will always want to verify that the spirit and meaning of the original source material has been preserved in the translated material before it ever reaches publication.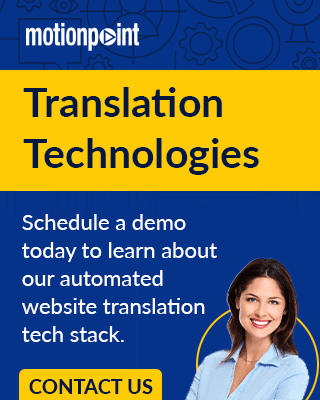 Proxy Translation Workflow Management
The proxy translation technology is geared toward businesses with a lean marketing team that desires little to no maintenance of their multilingual websites or publishing platform.
The level of involvement in a proxy translation solution is dependent on the number of time and resources a business has. With proxy translation, the translation workflow process is turn-key, allowing proxy customers to enjoy a hands-off approach to having their translation needs fulfilled. By allowing the technology to handle all aspects of the translation process, businesses save the time and resources needed to fully manage a multilingual site and other digital content for its global audience. This allows the lean marketing team to solely focus on the management of the origin site and other business growth initiatives.
With proxy translation, a team doesn't have to manage:
Manually identifying content for translation as proxy customers enjoy continuous translation.
Exchange of contents between publishing CMS platform and translation service provider
Manually creating  translation projects
Reviewing and publishing translated content once it is returned
Importing and exporting translation files
How Proxy Translation Technology Impacts Your Team
The impact of proxy translation on lean marketing teams is dependent on the level of involvement needed or required. Some marketing teams will have a project or localization manager who plays a Reviewer role. Typically, the Reviewer navigates their translated site in a tool that allows them to either edit the translation themselves or send feedback to their translation service provider on specific translations. Other management of proxy translation projects includes managing various multichannel, digital content and the flexibility of expediting translations when necessary. 
Proxy translation gives a lean team the option to be as hands-off or as involved as they want in the whole translation management workflow process.
Why Choose Proxy Translation for Your Project
If your business seeks a hands-off and worry-free approach to managing your multilingual website, then the proxy translation approach is most likely the right approach for you.
If your company wants to manage the complete translation process, which involves checking the status of translations and publishing those translations when complete, then translation integrations may be the right approach for you.
To Be Continued…
Our next blog post installment will highlight the translation workflow of translation integrations. Regardless of which website translation services technology you use, finding a world-class translation service provider is imperative when it is time to translate or localize content. MotionPoint's complete translation solution enables you to deliver your content quickly, efficiently, and securely to every customer, no matter the technology used.
Contact us today and have a professional guide you on selecting the right translation technology for your business.
Last updated on April 14, 2022