As a company considers expanding to new markets, international business strategies must be put in place for that plan to be effective. This is the first installment of an international business strategies series that will take a deep dive into translational, multi-domestic, global, and international strategies used to target new markets within international borders.
All the strategies mentioned above require a specific level of commitment around four main factors. Those factors are local responsiveness, global integration, standardization, and customization.
Local Responsiveness
Local responsiveness refers to a company that localizes its products and services to meet conditions and nuances in other countries.
Global Integration
Global integration refers to a company's local presence in the global market and the degree to which it can use the same products and services in other countries.
Standardization
Standardization refers to how a company does a "one size fits all" for the same products and services in other countries.
Customization
Customization refers to the process through which a standard message, procedure, or offering may be adapted according to the context or market in which it will be used.
What is a Transnational Strategy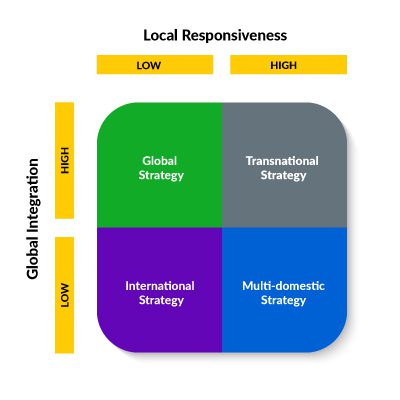 A transnational strategy leverages a high level of local responsiveness and a high level of global integration in its operations. It tries to localize its offering to each global market while also standardizing as much as possible. The goal of transnational strategies is to offer customized products and services for local markets while also keeping a high degree of standardization to benefit from economies of scale.
Transnational strategies typically involve large companies with different subsidiaries, branches, or offices across multiple global markets. The challenge is determining what stays the same across all global communications and procedures vs. where adaptations from local subsidiaries in global markets are adjusted or allowed. Finding the right balance between local responsiveness and global integration is going to be unique for every organization.
Companies spearheading a transnational strategy know when to allow global branches to adjust and make customizations and when not to. This means having clear directions on all international activities and operations.
There are several international business strategies to compare, here are a few examples:
International Strategy – This is a strategy ranks low on global integration, low on local responsiveness and high on standardization. Companies that implement an international strategy disregard both costs and local cultural preferences. Apple is a good example; it sells standardized products globally without adjusting the model or price for each market.
Multi-domestic Strategy – This is a strategy ranks high on local responsiveness but low on global integration. A multi-domestic strategy adapts to local responsiveness to satisfy the demands of domestic markets. Each country or market receives a customized version of a product.
Transnational Strategy – This strategy is a combination of multi-domestic and international strategies. It leverages both a high level of local responsiveness and a high level of global integration. In this type of strategy, organizations attempt to benefit from the efficiencies generated from standardization, while at the same time leaning on global branches to localize aspects of their messaging and offerings to local preferences.
What makes a transnational strategy unique?
A transnational strategy is commonly used when organizations confront cost pressures from global competitors. Standardization creates cost efficiencies, which help companies increase profit margins to benefit from economies of scale.
However, transnational strategies are hard to plan, execute and grow because companies must create profitable efficiencies through standardization without constricting global subsidiaries from adapting to local preferences. That's not easy.
Companies using this strategy typically have a head office that centralizes operations and overlooks all international subsidiaries. The degree of autonomy each subsidiary has is determined by the head office and varies from company to company.
Developing a Transnational Strategy
Transnational businesses must operate through an organized network of subsidiaries across multiple countries. Each subsidiary needs to understand its local customers' preferences and combine the resources provided by the head office to adapt products and services to local preferences.
With a proper transnational strategy, multinational corporations can leverage the benefits of standardization without sacrificing local responsiveness in different countries. They operate at a high level of communication, knowledge, and productivity to meet strategic objectives across various markets.
7 Steps to Develop a Transnational Strategy:
Research the markets where you are planning to expand. It's important to consider foreign policies, regulations, and logistics when identifying potential barriers to entry.
Understand the nuances of the culture and the language; the same language can have different dialects, with differing meanings tied to the same words.
Understand the local economy. This is crucial to identifying price points and preferences.
Get to know the target market. The consumers of a product might differ across countries. By understanding potential customers, you can tailor your product or messaging to guarantee greater success.
Analyze how much global integration and local responsiveness you need to be successful and stay competitive. This will help you determine the level of customization vs. standardization you will need to achieve with your messaging.
Determine your translation approach by identifying the type of translation services you will need and the costs associated with your goals. You will need to ask how your organization will want to translate and present content in each market.
The global economy changes daily. By creating an actionable plan to achieve your business goals, you can better determine how to stay agile in your global business strategy.
It's crucial to understand that the strategies that may have worked in one market (or company) may not be successful in another. The more agile and receptive you are to buyer tendencies in different regions, the faster you can implement changes.
Transnational Strategy and Language Translation
In a digital world, a successful transnational strategy can be even more challenging as international companies juggle multiple websites and digital experiences in different languages. When websites, mobile apps, or portals are in the mix, it's hard to both standardize and customize content in different languages. That is where translation technology can help.
The right translation services can instantly standardize messaging across all markets while also allowing the ability for local branches to customize certain elements (web pages, promotions, offers) in different languages. With effective translation technology, plus an effective transnational strategy, companies can rapidly reach their international business objectives.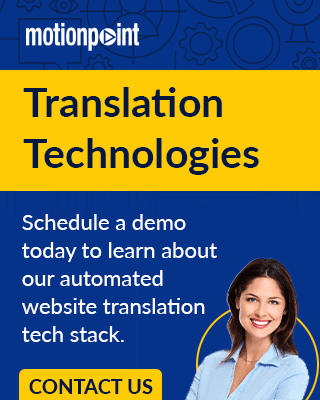 Leveraging Translation in Transnational Strategies
There are many approaches to start executing a successful transnational strategy—developing new brands, investing in localized marketing campaigns, and testing new products are some examples. But regardless of your go-to-market strategy, your company should seek to pursue robust translation workflow processes and high translation quality. Efficient communication will play a significant role in your success.
Global organizations provide online information to international customers, suppliers, distributors, and partners. It's important not only to translate these resources but to localize them to the dialects used in different regions. Learn how localizing your website is essential for your transitional strategy.

Once you have identified your approach to a transnational strategy, MotionPoint's unique translation technology can help you reach the level of scalability and efficiency your team needs to stay competitive in an evolving, global market.
Connect with one of our translation and localization company experts today—we'll help your team design a solution that can help your organization become a preferred brand, no matter where you operate.
For a limited time, take advantage of our amazing BOGO offer! If you want to test out a new, foreign market like Mexican Spanish, why not try out Spanish for South American markets? If you sign up to get one language, we'll give you the second for free! Drop us a line today. 
Last updated on May 02, 2022