Creating a product localization strategy ensures that you're capitalizing on the full potential of global markets. Learn about product localization and how it can help you reach new markets.
What is Product Localization?
Product localization adapts or modifies a product or service for a given language, culture, or region. Localization ensures your online business presence is culturally relevant to the global, multicultural audience your business serves. For products, localization would involve translating and localizing product materials, packaging, website content, and marketing materials. 
An interconnected world requires businesses to understand and adapt to new, additional markets. Selling in foreign markets does not automatically result in equal success. Supporting local languages and culture is a top priority if your business is planning to enter new global markets. For a company on track for global growth, there is no getting around localization. 
Have you attempted to purchase something online internationally, only to find that navigating the website is challenging just to learn the steps required for payment or shipping? If that process left you frustrated and resulted in abandoning your purchase, you're not alone. According to CSA Research, up to 60% of non-native English speakers rarely or never buy from English-only websites, and 64% of buyers say they specifically value localized content. Additionally, 56% of shoppers rate the ability to obtain product information in their preferred language as more important than price.
Benefits of Product Localization
Product localization is the key to connecting with customers and is necessary for sales growth. Here are some benefits of localizing your products when planning an international expansion:
Larger Customer Base
A great product can sell everywhere. The more places your product is available, the larger your customer base. It takes more than a great product to expand into new markets. You must ensure customers are satisfied. Through translation, you can present your brand as engaged, trustworthy, and authentic.
Enhanced Brand Awareness and Image
A brand is what your business shapes it to be, and a consistent brand image helps customers associate your products with your brand. Product localization offers awareness and a better brand image by adapting to the local culture of your target audience. Then, you can build relationships with prospective customers that encourage them to remain loyal. Through this process, you can invoke positive customer reactions and motivate them to trust your business. 
Successfully adapting your product for global audiences can lead to greater customer satisfaction, which ultimately enhances the overall image of your brand. According to research, 90% of online shoppers prefer their native language on a website. And, 78% of online shoppers will indeed purchase if the website is localized, which points at a high degree of customer retention when customers feel valued.
Easier Global Expansion
Successful product localization can directly lead to improved sales wherever your business is targeting. If your customers can understand what your product does and why it's the right choice for them, they'll naturally be inclined to make a purchase. But, of course, more sales equals more sales opportunities. Fortunately, once you complete product localization once, it's much easier to replicate localization again and again.
Proactive vs. Reactive Product Localization
Proactive internationalization and localization are related processes that provide positive results. Internationalization refers to specific strategies to create products or services that can be used and modified in many different markets. Internationalization processes include researching target markets, building an understanding of the audience, planning for market entry, and establishing international money management. In essence, it's "weaponizing" your product for localization. In turn, localization is the technical process of adapting a product for various markets or locations. Once your product undertakes internationalization, you can perform localization multiple times for various locations.
A reactive localization strategy is simply the opposite. Being reactive involves responding to business demands through ad hoc measures – as situations or issues arise after you roll out your product. It's a risky strategy to wait until potential problems come up. In a reactive process,  responsive roles and responsibilities are unclear; and technology support for localization tasks may not be sufficient. Because of this uncertainty, before bringing a product to a new market, you should establish a product localization strategy
Creating a Product Localization Strategy
A product localization strategy is necessary to find, develop, and implement all aspects of bringing a product to a new and potentially lucrative market. Here are some critical steps to take to ensure you're selling your products smartly and effectively:
Market Research
It's risky to dive into a market with a new language and culture, not knowing if your business has the potential to succeed. In-depth market research and cultural analysis are critical to developing a product localization strategy. That means looking at broad topics such as culture, trends, politics, and consumer behavior. Next,  research your specific target market. Look at whether there is demand for your product, what local competitors are doing (and how successful they are), and potential customer needs. 
Outline Touchpoints and Scope of Work
A touchpoint is any interaction that might influence how a potential customer feels about your product, brand, or service. When you create a product localization strategy, consider where potential customers who might purchase your product see, read, or experience your business. Outline everything the customer is proactive about, including reading about your product online, making a purchase, understanding the shipping process, and interacting with customer service. Do aggregator sites offer translated experiences? Can those same users read localized information on your site too?
It's also essential to understand the scope of work for a strategy. Localization isn't a one-size-fits-all process. For some projects, it might make sense to localize everything; for others, it might make sense to localize as you gain more customers gradually. Figure out the proper scope for your product first, so you don't overstep boundaries of time and finances. 
Translate and Localize 
Once your research is complete and you have a strategy in place, it's time to move forward. This includes preparing relevant information for translation and localization. Translation services providers such as MotionPoint use content localization tools to translate and localize content successfully. What are your options when it comes to localization? MotionPoint offers comprehensive end-to-end solutions for translation and localization company technology, including:
Translation integration options, such as connectors and API capabilities, to content management software (CMS) to accommodate customers' unique and diverse translation needs.

Flexible translation options that leverage human linguists, neural machine translation, or a combination of both.

Capabilities to localize content in all channels, including secure user portals, mobile applications, social media, PIM content, and more.

Translation services for documents, videos, and images.
This includes options for translation systems such as: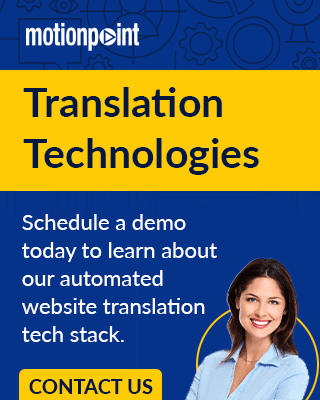 Rollout and Optimize
Now you're ready to offer your product to market and watch your strategy unfold. First, ensure that information is being tracked correctly and that you can segment sales and customer experience data. This will allow you to assess how specific international markets are performing. Once you separate the more successful locations from the least successful, you can optimize product performance by looking at markets that are similar to your most successful (similar population size, culture, target audience, etc.) and move forward with even more growth.
Take Charge of Your Product Localization Efforts
Product localization efforts require expertise and guidance. Without this help, your business risks missing the mark and not connecting with potential customers. MotionPoint is a localization company that supports product localization goals. MotionPoint's technology services are built to minimize operational complexity and maximize translation and localization impact. In addition, MotionPoint can provide a consistent brand image to your customers, so there's no loss of brand identity as you make your way through the global marketplace. Talk to an expert today!
Last updated on July 01, 2022