For years, the same countries have scored lots of media coverage for being hot emerging markets. You can probably cite the "greatest hits" list from memory: China, Russia, Brazil, Mexico, South Korea, others.
Of course, there's no harm in expanding into those markets—particularly online, where costs and risk are relatively low. Our blog certainly showcases these markets week after week!
But today, we're shaking things up by turning the spotlight to four smaller markets—less obvious countries that just might be "the next big thing" to generate engagement and revenue in your country's online expansion efforts.
Take a Trip to Scenic Central Europe…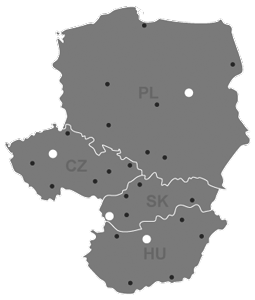 The Visegrád Group (also known as the Visegrád Four, or "V4") represents an alliance of four central European countries: the Czech Republic, Hungary, Poland and Slovakia. For more than 20 years, these nations have closely collaborated to create modern, stable economies. The V4's goal is to, as one Slovak website says, "achieve full participation in the European political, security, economic and legal system."
The alliance has been successful. All are members of the EU. Economic and cross-border cooperation has created a thriving region.
The four nations are now "high income countries," as defined by the World Bank (meaning, a country with a gross national income per capita above $12,735 in 2014), and have very high rankings among the Human Development Index—a composite statistic of life expectancy, education and per-capita income, as presented by the United Nations Development Programme.
Indeed, if counted as a single nation-state today, the V4 is the fifth-largest economy in Europe and the twelfth-largest in the world—outpacing nations such as Australia, South Korea, Spain and Mexico.
If the V4's population was combined, it would be the fourth-largest in Europe.
Here's some snapshots of the four countries:
Poland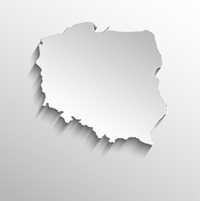 With a GDP PPP of $954.5 billion (23rd in the world), Poland's economy is the sixth-largest in the EU. According to the country's Central Statistical Office, Poland has an expected growth rate of 3.4% this year and 3.7% in 2016. This means Poland sports one of the fastest-growing economies in Europe.
It's a stable one, too. While the rest of the EU reeled during the global recession of 2009, Poland's GDP actually grew. In 2013, when the EU's economy remained below the pre-crisis level, Poland's had increased by 16%. The government is business friendly.
The market is also primed for online expansion. 63% of its residents have Internet access (more than Russia). More than half of all mobile phone users currently own smartphones; this will rise to almost 75% by 2018, eMarketer reports. B2C e-commerce has grown 25% YOY. Nearly half of Polish Internet users regularly buy online.
Czech Republic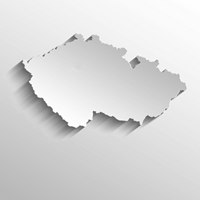 According to the World Bank, the Czech Republic is among the world's Top 30 developed countries. It also has one of the region's most developed, and stable, industrialized economies. Earlier this year, the country's economic growth accelerated to a record, outpacing all other EU members' in the first quarter, Bloomberg reported in May.
This growth is the latest in a very positive trend. The 2009 global recession hit the Czech Republic harder than Poland, but the country has been on the upswing for years. "Renewed consumer confidence and income growth are supporting consumer spending," the Organisation for Economic Co-operation and Development reported in June, "while public spending and an improving outlook are raising investment."
Online expansion opportunities abound here, too. Almost 75% of the population has Internet access. Nearly 60% of mobile phone users own smartphones; this will increase to 72% by 2018. B2C e-commerce grew 29% last year.
Hungary & Slovakia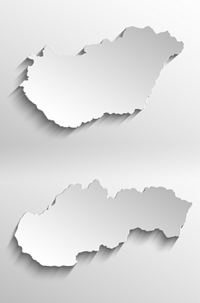 After years of enduring a deficit and uncertainty during the global recession, Hungary's economy is now soaring. The country's current growth rate is "one of the fastest" in the EU, Bloomberg wrote in March, with a 7.7% annual growth in industrial output—double what was forecasted.
GDP is growing, too. It "grew 3.4 percent in the fourth quarter from October-December 2013 and 3.6 percent in 2014," Bloomberg reported, "more than the 3.5 percent full-year preliminary estimate."
Slovakia has experienced growth after the global recession, too. "GDP has surpassed the pre-crisis peak by more than any other European country that had a recession in the wake of the global financial crisis," wrote the OECD last November. Indeed, the country's GDP per capita grew 12% from 2010 to 2014.
Internet penetration is quite high in these countries—73% in Hungary; 78% in Slovakia. About half of all adult Hungarian Internet users own smartphones. Both countries see YOY growth in e-commerce spending. Hungary's e-commerce growth was 32% last year.
The MotionPoint Perspective
The V4 countries are ideal for companies keen to expand into new online markets … especially companies that like to move fast and minimize risk. Thanks to the V4's thriving economies and business-friendly governments—combined with its rapid adoption of the Internet, smartphones and online transacting—there's a lot to love.
But third-party news reports tell only part of the story.
Exclusive Data
Our company translates and optimizes hundreds of sites for emerging international markets, including the V4. Armed with proprietary data and analysis, MotionPoint has a unique perspective on the V4's economic state, residents and infrastructure.
When you look at MotionPoint's data, the opportunity is clear:
Czech Republic: MotionPoint helped one retailer improve its business in this market when we assumed the operation of its localized Czech site. In three months, revenue increased by nearly 30%, compared to the previous three months. In six months, that rose to 34%. By nine months after launch, the company was generating 40% more revenue than before.
Slovakia: Similar growth occurred here, when we optimized the retailer's Slovak site. Revenue improved by 16% three months after MotionPoint took over … and then nearly 40% after six months … and a whopping 52% after nine months.
Poland and Hungary: More explosive growth here. Our optimization of the retailer's Polish site led to an incredible 62% growth in revenue in just nine months. Two years after the launch of another retailer's Hungarian site, the company was making 42% more revenue than before.
European Markets = Less Risk
The opportunity is even more compelling when you consider the countries' location and governmental affiliations, says Eric Watson, a Global Online Strategist for MotionPoint's Global Growth team. Eric has studied the eastern and central European markets for years.
"The V4 is within the EU, so that streamlines commerce in ways other emerging markets' can't," he explains. "If you examine growth within Europe, you see countries with clear challenges, like Greece and Portugal. But the V4 governments are winning."
Why? V4 countries embraced progressive policies after the fall of communism, and sought guidance—and structural and capital infusion, and economic inspiration—from the neighboring western European countries that were doing it right. In comparison, post-communist countries that didn't fully embrace market reforms (such as the Ukraine and Belarus) have struggled, Eric says.
The V4 countries have lots in common with other western nations. Ensconced in the EU's well-established payments and fulfillment infrastructures, the V4 delivers a happy balance in many key logistics concerns:
Currency, tariffs, legal requirements and customs laws are becoming increasingly harmonized
Cultural expectations are largely western, making localized marketing campaigns less challenging than in other regions
Shipping and fulfillment options are reliable and fast
In contrast, Asia has many growing markets, but there are many regional challenges to overcome, Eric explains. Payment systems … consumer habits … cultures … marketing norms … tariffs and customs … fulfillment … all can be wildly different than what western companies are used to, and can be easily misunderstood.
Here's another compelling reason to expand online into the V4: a lack of competition. This can generate meaningful results in expectation-defying ways.
For instance, one of our clients, a European sporting goods company, generates more online sales and revenue in Slovakia than in Germany—not because the Slovak market is bigger, but because it is largely underserved with significantly less retail competition. Savvy first movers can have an advantage.
Would you like to learn more about the V4, and how MotionPoint can help your company expand there online, quickly and affordably? Contact us today, or discover how our Global Growth approach sets us apart from other localization vendors.
Last updated on August 06, 2015