If your company has been waiting for the Russian e-payment industry to mature before expanding into that growing online market, now's a great time to take another look.
Borderfree, a company that provides end-to-end website checkout & fulfillment solutions for international markets, recently declared Russia "an essential component of any global e-commerce strategy." Russian online consumers are highly-educated, and use social media more than the global average. And thanks to socialized healthcare and a low cost of living, their personal consumption levels lead the BRIC countries, the company said.
But for years, Russians shunned using credit cards and PayPal-like "e-wallet" payment options for online transactions, due mostly to fraud and a lack of consumer trust. Cash On Delivery has historically been preferred in the region for e-commerce purchases – and unique shopping experiences (such as "try before you buy" fashion consultations by package-delivering couriers) have emerged to offset consumer risk.
This has created a longstanding gap between local consumers and international companies.
However, the market has recently experienced a pivot, and is now increasingly aware of – and increasingly using – e-wallet solutions.
Rising Adoption Rates
According to a recent story in East-West Digital News (citing survey data from Yandex.Money, a division of Russian search company Yandex), Russians are now "fully aware" of the market's primary e-payment options. The survey interviewed residents between 20 and 44 years old who lived in major Russian cities.
About 75% of respondents use e-payment methods at least once a year. Almost half now use e-payments on a monthly basis. E-payment adoption is skyrocketing among desktop and mobile users, too: nearly 95% of shoppers are comfortable using both devices to make e-payment purchases.
E-payment services such as Yandex.Money, WebMoney, VisaQiwiWallet and PayPal are all prominent players in Russia, with Yandex.Money and WebMoney representing more than 40% of market share each.
First Movers Flourish
International e-commerce giants such as Amazon, eBay, and Chinese holding company Alibaba expanded into Russia years ago, as have smaller – but equally progressive – industry leaders such as ASOS, a UK-based fashion retailer (and MotionPoint client).
"Electronics and fashion are among the top e-commerce moneymakers here, as in the U.S. and Europe," reported The Wall Street Journal in 2013. "Deprived of Western styles during Soviet times, Russians snap up designer threads online at discounts compared with expensive stores."
However, other industries are seeing success in the region, too, including travel. Companies such as TripAdvisor and Hotels.com have had transactional websites in Russia for many years. As State of Digital recently wrote, "As the Russian travel industry grows and the rapid growth of the Russian online market provides significant potential upside in 2015 and beyond, Russia continues to be a priority" for travel companies.
The maturation of the Russian e-payments space will certainly reduce transactional obstacles in these, and other, industries.
Our research supports this. MotionPoint translates companies' general-market English websites into other languages, and has extensive experience in Russian localization. We've determined that if companies added e-wallet support to their Russian sites, they would greatly amplify their conversion rate among their most-common target demographic – younger shoppers aged 25 to 34, who readily adopt new payments methods.
The MotionPoint Perspective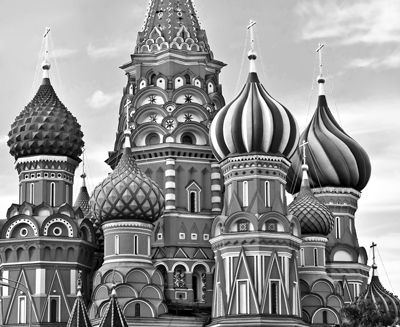 International companies are succeeding online in Russia and the neighboring Commonwealth of Independent States (CIS). Many are MotionPoint clients. For instance: One of our e-commerce clients has generated more than $8 million in revenue so far this year – not from Russia, but from customers in the Ukraine.
This is astonishing, particularly because the company doesn't target Ukraine customers in its marketing efforts at all. Its focus remains solely on Russia, and the cities that always generate the most e-commerce action (such as Moscow and St. Petersburg).
Another noteworthy observation and comparison: A major U.S. retailer and MotionPoint client, which invests hundreds of millions in marketing & advertising to U.S. consumers, generates an average of $3.60 revenue per session (per user visit) to its e-commerce site. In contrast, the Russian e-commerce site we described above generates an average of $1.70 per session – and that's without any meaningful localized marketing / ad spend (beyond simple social media efforts).
When you consider that the country's current population of 143.5 million (61% of which have Internet access) can engage a Russian-language site and generate $1.70 of revenue per visit, the opportunity isn't just intriguing – it's profound.
Indeed, our data suggests the Russian market is healthy, and its consumers are spending money. Average order values are generally high. If this client invested further in its local marketing efforts – such as creating localized sales events or shipping specials, celebrating local holidays, or launching region-specific PPC campaigns – we're certain its traffic, engagement and revenue would rise accordingly.
This is bolstered by other data points. The number of returning visitors to the Russian sites we operate is robust, and shows strong brand loyalty. The sessions / visit ratio is quite high. The conversion rates are also quite healthy. Bounce rates are low. Positive signs, all.
Engagement and revenue hailing from CIS nations is also quite attractive.
Our thorough analysis of the Russian market, the positive changes we're seeing in the region, and the data hailing from the sites we operate & optimize there, lead us to be quite bullish on the Russian and CIS markets. Our perspective is also informed by years of on-the-ground experience:
Going Beyond Moscow
We've helped companies expand beyond the easy-to-reach Moscow / St. Petersburg markets, and overcome the challenges of reaching skeptical Russians living in medium-sized cities.
The Commonwealth Is Thriving
Our clients generate sizeable revenue in the emerging CIS markets. Another of our e-commerce clients sees ever-increasing traffic hailing from the Ukraine, Kazakhstan and Belarus – a clear indicator of interest. According to our exclusive data, these residents are great customers: robust sales, return visits, high AOVs.
Loyal Customers
Properly-localized sites seem to be super attractive for Russian shoppers. We operate multiple localized sites for one e-retailer, with sites targeting Latin Americans, Europeans and more. Of the many sites we localize for this company, its Russian site has the lowest bounce rate, longest time on site, and second-most returning visitors. These are loyal customers.
Translate Once, Use Everywhere
And since Russian is the lingua franca of all existing CIS nations, companies need only localize its sites in the Russian language. This ultimately saves on translation costs (when compared to localization costs for other large regions, such as Europe and Asia, where several languages are required to fully engage those markets).
As more and more Russians embrace modern e-payment options, more guesswork and risk is eliminated for global companies keen to expand into the region online. Now is an ideal time to revisit the Russian opportunity.
MotionPoint can help your organization determine if a Russian site can best-serve its global growth objectives. Learn more about our Global Growth methodology, or contact us for more information.
Last updated on July 15, 2015