Mobile app localization is the latest method of reaching new audiences in their preferred languages. According to Statista, there are about 6.64 billion smartphone users worldwide, which means that 83.89% of the world's population people currently use their smartphones on the go.
The most popular operating system on those smartphones is Android by Google and iOS by Apple. Both operating systems offer mobile applications (mobile apps) created by various companies that provide a variety of functionality for smartphone users. In today's digital age, companies want the ability to provide much of the digital content that is available on desktop applications while tailoring these applications to their on-the-go customers.
By leveraging mobile app localization technologies, companies can now provide a convenient, in-language experience for customers, employees, and partners on their mobile apps. Having a mobile app in a customer-preferred language can increase visibility and downloads of a company's app—while boosting sales and customer loyalty.
Learn more about how MotionPoint localizes mobile application content in more detail.
Mobile App Localization, Simplified.
To have a mobile app translated, specific steps and best practices must be followed. This is where mobile app localization comes in. Mobile app localization adapts an app interface that suits the global markets, often including linguistic and cultural differences.
An example of this is the Chinese language which sometimes is written in vertical columns, from top to bottom, and the lines read from left to right.
By preparing a mobile app's interface for various languages, a translation service provider can translate content on an ongoing basis without the need for more development time or maintenance.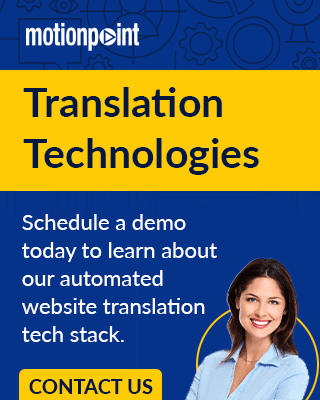 Prepping Mobile Application for Localization
Once a company decides to translate its mobile application, a decision must be made, whether it is translation only or a planned Internationalization (I18N) process, which is often recommended if a company is trying to expand to a new region. I18N involves a thorough process of planning, implementing, and adapting the mobile app to a specific area, language, and culture.
The process in I18N includes localization which facilitates the adaption and translation of the audience's preferred language in the mobile app. This consists of all the region's localization aspects, including currency conversion, date formats, and cultural norms. The idea of I18N is to develop the mobile app to appear to have been developed within the local culture and market.
For mobile app localization, the following best practices are recommended when prepping an application for translation:
Prep mobile app to support local languages and cultural settings. This will help the app meet user expectations—an example would be Arabic translations, which read right-to-left, unlike English or other western languages.
The interface should expand and contract depending on the user's screen size, as different characters in different languages take up space. View this MotionPoint's infographic about word growth due to professional translation.
During the design and development phase, ensure that the text is kept separate from images. Text strings should be developed away from the development code. It is also recommended that strings be stored in resource files in the appropriate file format, vs. being inside the framework of the codebase. This helps reduce development time and the need to write additional code every time new content needs to be translated.
Building the mobile application with some of these best practices in mind is essential. They can influence the overall functionality and success of the application and ease of translating new content.
Methods of Mobile App Localization
There are various ways mobile apps can be localized without needing a team of translators. The following options are the most cost-effective and scalable:
Mobile Software Developments Kits (Mobile SDK) + Translation Service Providers: Software development kits, or SDKs, are downloadable software packages that contain all the tools needed to build mobile apps. In the case of mobile app translation, a translation service provider mobile SDK would be able to translate new content (text strings) without resubmitting the app.
API & Connector Integrations + Translation Service Providers: Connectors or APIs can be utilized by communicating with translation services provided through integration. A company can connect the mobile app to the translation service providers to "pull" new content and translate it using a translation integration. Once translated, a callback notification will be issued so that the customer can make a request for the translated content. An alternative method is that the app can "poll" our API periodically to see if a job has been completed.
Manual + Translation Service Providers: Another alternative is to add translations to the mobile app manually—a translation service provider generates in-language content by request, which is then sent to the mobile app developers to add it to the app. Simple, yet time-consuming, and can have delays due to resubmission of the mobile app.
Selecting a Translation Service Provider
Besides ensuring your mobile app is ready for localization, you should consider the ability of the translation service provider that will be facilitating the translations.
Always look for the automation capabilities of your translation service provider. All new content should be translated and updated automatically. For effortless management, your translation services provider should be able to stay up to date with over-the-air (OTA) updates; this can include software updates, configurations and settings, or encryption keys.
Make sure to find out the translation service provider's localization processes. Is it a continuous process or file-based? Most businesses looking to localize their mobile app are on a strict schedule or require a translation process that requires minimal effort.
File-based approach allows localization managers to track progress, review, and commit changes through document files. This means constant communication between the translator service provider, tech teams, and management is required. You find this approach is common when translations on the mobile app are done manually or through translation integration such as APIs or connectors.
Continuous process approach allows content files or text strings to go into a repository such as GitHub or Bitbucket, and if changes are made, they automatically get sent to translation. With this process, localization managers enjoy a hands-off approach but may find it challenging depending on the translation service provider and their quality of work. You find this approach is common with mobile translation SDKs or through translation integrations.

Both approaches are all dependent on your team and the amount of control your business needs. Some translation services provide a hybrid approach for mobile apps that can include the continuous automated translation process with the workflow visibility of a file-based approach. 
Mobile applications constantly need updating to keep up with trends, security protocols, and consumer preferences. A trustworthy and experienced translation service provider should work with your application, regardless of your changes.
The Case for Mobile App Localization
With mobile phone users increasing daily, brands worldwide have launched mobile apps for shopping, banking, transportation, and even healthcare services. Through globalization, companies can compete in foreign markets and generate customer loyalty by utilizing mobile app localization to connect with users in their native language.

With a fully localized mobile app, you can create a holistic experience for your customers by servicing them in their preferred language. This adds significant value throughout the buyer's journey.
MotionPoint is a trusted translation partner for brands worldwide; we offer seamless mobile app localization—from native applications to hybrid and progressive web apps. Contact our team to learn more.
Last updated on March 21, 2022